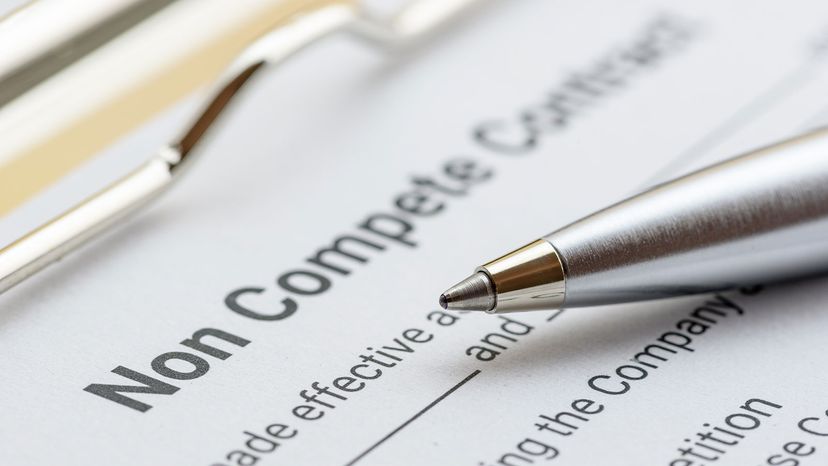 If you're working for a company you don't like and decide to work for its competitor, will that first company come after you for switching jobs? That might depend on whether you signed a noncompete agreement.
A noncompete agreement is a type of contract that prevents an employee from working for a competitor within months or even years after leaving the company. In other words, noncompete clauses are designed to protect an employer against workers taking their talents and trade secrets to the competition.
That might make sense for high-paid corporate executives, TV anchors or tech workers, whose sudden departure to the competition would pose a real threat. But the crazy thing about noncompete agreements is that American employers have asked all types of workers at all wage levels to sign them: home health workers, sandwich shop employees, even dog walkers.
According to 2020 data published in the Journal of Law and Economics, around one in five American workers are bound by a noncompete agreement. In early July 2021, President Joe Biden signed an executive order calling on the Federal Trade Commission (FTC) to ban or limit the use of noncompete agreements in employee contracts.
"You'll find noncompete agreements in every corner of the U.S. labor market," says study co-author Evan Starr, an assistant professor of management and organization at the Robert H. Smith School of Business at the University of Maryland. "They're being signed by interns, minimum wage workers, even volunteers for nonprofits in states like California that won't even enforce noncompete agreements."
According to Starr's research, nearly 40 percent of 11,505 U.S. workers he surveyed have signed a noncompete agreement at some point in their careers, and 18 percent are currently bound by one. That includes one-third of workers earning $40,000 or less. Another study by the Economic Policy Institute found that 29 percent of employers paying less than $13 an hour required their workers to sign noncompete agreements. Of the folks in the top tier of their study (those earning $22.50 and above), 36.5 percent had signed noncompetes.