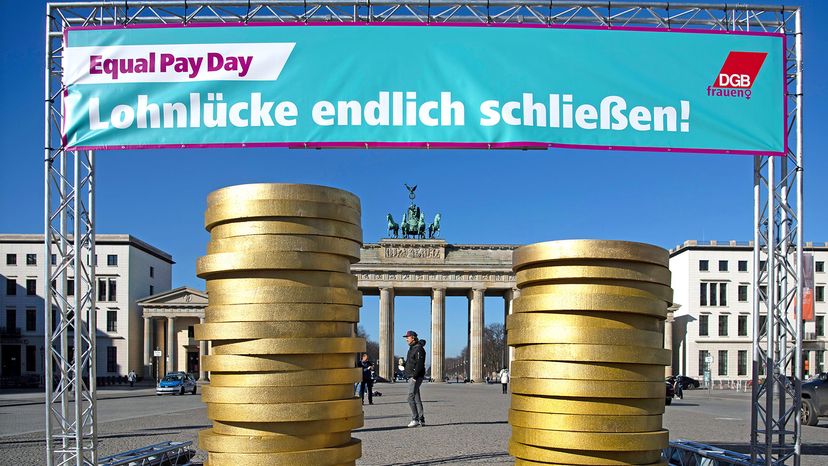 Would you work three months every year for free? If you're an American woman, you just might. Every March or April, one Tuesday is dubbed Equal Pay Day by the National Committee on Pay Equity (a coalition of groups working toward equal pay for all sexes and races). This 24-hour period symbolizes the gender pay gap, showing how far into the next calendar year women must work to earn the same amount of money as men. Similar days are also commemorated across the world.
The National Committee on Pay Equity has been holding an Equal Pay Day in the U.S. since 1996, but the issue of gender-based pay differences has been around long before that [source: National Committee on Pay Equity].
While comprehensive data on gender inequities in pay wasn't collected until 1950, research shows women were earning a mere 30 cents per dollar compared to men during America's early years, when its economy was largely driven by agriculture. During the Industrial Revolution (1820 to 1850) women fared better, netting 50 percent of the wages men took home; by the early 20th century, that rate inched up to 56 percent (i.e., women earned 56 cents for every dollar men earned).
Despite the fact that Congress mandated equal pay for equal work in 1963, the wage gap remained at 60 percent for years. In the 1980s it began to climb again, rising to around 70 percent by 1990. But some 30 years later (the latest available statistics are for 2020), the gap had only nudged up to 83 cents per dollar, according to the U.S. Census Bureau. This is only slightly better than 2015, when the gap was around 80 cents per dollar.
Economists say one-third to one-half of the gender pay gap may be explained by differences in education, experience and the number of hours worked. But the reason for the remainder is a bit of a mystery, although many say it's due to gender discrimination. To put the pay gap in perspective, consider this: In 2019, a typical 25-year-old woman employed full-time earned $5,000 less per year than her male counterpart. If that gap persists until those employees hit age 65, she would have lost out on more than $406,000 compared to the man, an astonishing figure.
The gender gap is even steeper for women of color. In 2020, according to census data, white non-Hispanic women working full-time, year-round earned median annual incomes that were 79 percent of what their white, non-Hispanic, male counterparts scored. For African American women, the figure dipped to 64 percent; for Hispanic females, it was a dismal 57 percent. (While these discrepancies are big, the gaps are less than they were five years ago.) As far as Asian women were concerned, the American Association of University Women, which compiles these stats using census data, wrote, "It is not possible to compare this year's pay gap between Asian women and white, non-Hispanic men with last year's due to limitations in this year's data collection" because of COVID-19. However, in 2017, Asian women earned about 85 percent of what white males did, higher than even white women.
Women of color are so far down in the wage gap, the American Association of University Women pegged "Equal Pay Day" for African American women as happening in September and in December for Latinas in 2022.