Coin Designs
There are eight euro coins ranging in value from 1 cent to 2 euros. They also vary in size and thickness according to their values to promote easier identification. As with the bank notes, there was a Europe-wide competition for the coin design. Luc Luycx of the Royal Belgium Mint had the winning designs for the side of the coins that is common to all 12 member states.
The design features one of three maps of Europe surrounded by the 12 stars representing the Euro member states. The opposite side of the coins has designs specific to each country, also surrounded by the 12 stars. Although each country has its own coin design, each coin is accepted in any member state.
Here is what the common side of the coins looks like: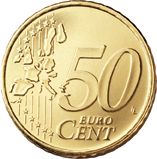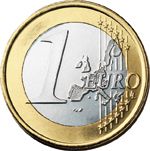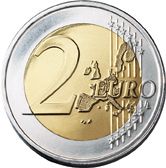 To see each of the member states' designs, click here (then click on the map for the country whose coin you wish to see).
The European central banks paid for the initial supply of currency to be produced -- a staggering 50 billion euro coins and 14.5 billion euro bank notes!