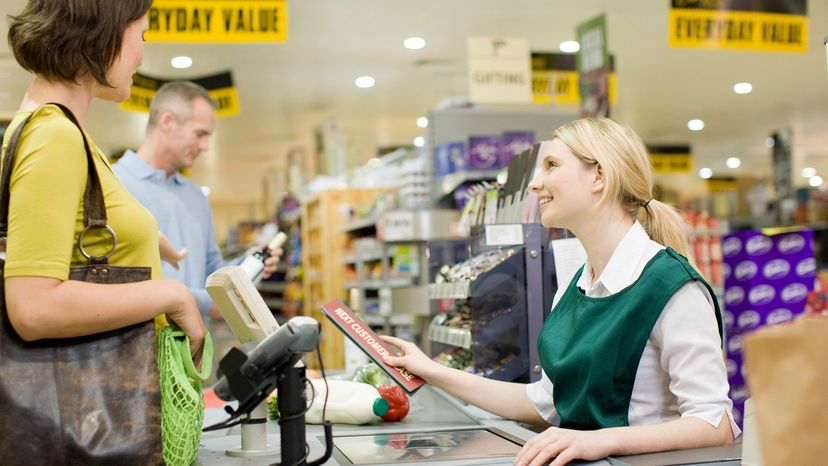 Do you like when cashiers ask you for charitable donations, or do you find them annoying? Either way, checkout charity is big business.
Image Source/Getty Images
In response to the devastating floods in North Carolina and South Carolina from Hurricane Florence, Walmart launched a Hurricane Relief Fund in which the big-box retailer promised to match and then double customer donations to help flood victims.
The donations were primarily collected at cash registers in Walmart and Sam's Club stores, a popular practice known as "checkout charity." Customers responded generously, quickly reaching $2.5 million, on top of which Walmart added $5 million.
The checkout charity campaign was a win-win for Walmart and the nonprofit organization it supported, Foundation for the Carolinas. Millions of dollars were raised to help hurricane victims, Walmart customers felt like they were doing a good deed, and Walmart itself showed it was a caring member of the community.
But experts say that checkout charity is not just about community service and warm fuzzy feelings. It's also about the bottom line.
"What companies are hoping for out of checkout charity is that there's a halo effect and that consumers are going to spend more with them because they view the company more favorably," says Joe Waters, a marketing consultant with Selfish Giving.
And the tactic seems to be working. According to a 2016 survey from Good Scout, 71 percent of U.S. consumers have made a charitable donation at the register, and 55 percent actually like being asked to support a charity at checkout. In 2016, the top 73 checkout charity campaigns raised a total of $441.63 million, a 4.5 percent increase from 2014.
More importantly, 60 percent of respondents in the Good Scout survey said they felt positive about the company after being asked to donate at the register.
That positive sentiment translates into customer loyalty and higher sales. Marketing professor Michael Giebelhausen at Clemson University published a study in 2017 that looked at revenue at a national chain restaurant following the implementation of a checkout charity campaign.
"[Checkout charity] had a statistically significant positive impact on sales," says Giebelhausen, who credits the economic effect to something marketers call "warm glow."
Everybody wants to see themselves in a positive light, Giebelhausen explains. And when companies give consumers the chance to engage in "prosocial" behavior — like reusing their towels at a hotel to save water, or packing up groceries in an environmentally friendly reusable bag — consumers walk away feeling good about themselves.
In psychological terms, by donating to a checkout charity or reusing a dirty hotel towel, the consumer has earned "moral credit." And once you've earned a little moral credit, it gives you license to do something that's not as virtuous, like spending money on something frivolous or unhealthy.
"If your business is a 'vice' business," says Giebelhausen, "like fast food or candy, then it's a particularly good combination. Customers who donate feel good about you and then they have these moral credits that they can spend on your products."
Checkout charity campaigns are not without their pitfalls, though, says Waters of Selfish Giving. He mentions a local Boston grocery chain that hits him up for a different charity every time he comes to the register. The store employees don't engage customers or bother to explain what the charity is all about. An option just pops up on the credit card pinpad and Waters feels pressured to donate.
"Those are the programs that people complain about," Waters says.
The checkout charity campaigns that work, explains Waters, are thoughtfully executed and integrated with the company's mission and client base. Waters' specialty is "cause marketing," helping for-profit companies partner with nonprofits to advance a charitable cause while making the company look good. He's run checkout charity campaigns for local Boston businesses as well as national chains like Staples and Valvoline Oil Change.
For Waters, a good example of an effective checkout charity drive is the Month of Giving at the sandwich chain Jersey Mike's. Each franchise location partners with a local charity and solicits donations during the month of March and only during the month of March. The campaign is capped by the Day of Giving, when the proceeds from all sales made on March 28 are given to the chosen charity.