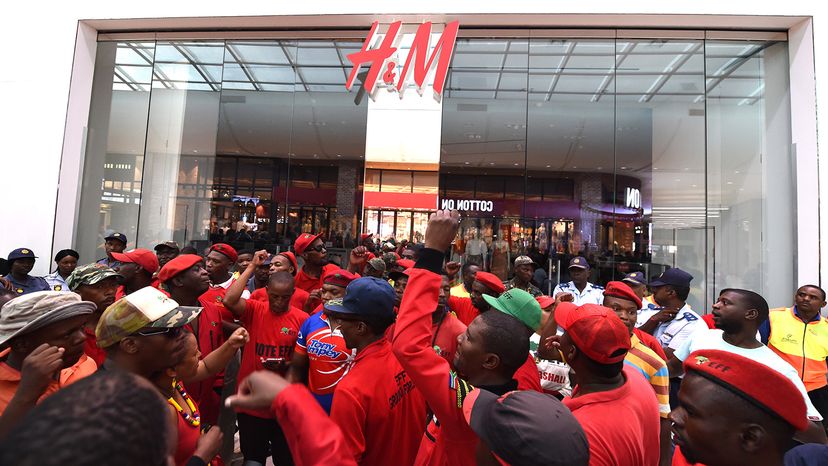 H&M temporarily closed stores in South Africa after protesters staged demonstrations following the release of an ad campaign featuring a young African-American boy wearing a hoodie that read "Coolest Monkey in the Jungle."
Felix Dlangamandla/Foto24/Gallo Images/Getty Images
In a world where anyone can weigh in and give their often-unforgiving opinions about anything and everything, social media can pose a challenge as to how companies advertise their brands. These days, almost everything posted on the internet can be dug up again, even if it was deleted, making it tough for some people and companies to bounce back from not-so-awesome posts.
In these five instances, the way the following five companies marketed their products didn't exactly make people want to rush out and buy them. You might be familiar with a few.
1. H&M Crowned Not So Cool.
Clothing retailer H&M came under fire in early January 2018 after choosing an African-American boy to model its new hoodie with the message "Coolest Monkey in The Jungle" across the front. H&M released an apology following the incident saying, "Our position is simple and unequivocal — we have got this wrong and we are deeply sorry." The apology didn't sit well with many people, including rapper G-Eazy who decided to terminate his relationship with H&M through an Instagram post, saying "Over the past months I was genuinely excited about launching my upcoming line and collaboration with @HM... Unfortunately, after seeing the disturbing image yesterday, my excitement over our global campaign quickly evaporated, and I've decided at this time our partnership needs to end."
R&B crooner The Weeknd also took to social media with his decision to terminate his relationship with the clothing brand.
2. Pepsi Ends Police Brutality?
Kendall Jenner is no stranger to controversy. It kind of comes with the territory of being a sibling in arguably the most famous family in pop culture, the Kardashians. And Jenner found herself in hot water in early spring 2017 after starring in a Pepsi commercial where she interrupts a police brutality protest by giving a Pepsi to one of the officers in hopes of forming a truce between the protesters and law enforcement. Although Jenner (and Pepsi) may have had good intentions, social media didn't think so, with many calling the commercial "racist" and "distasteful." Pepsi stopped the commercial and issued a formal apology, stating, "Pepsi was trying to project a global message of unity, peace and understanding. ... We did not intend to make light of any serious issue." The company also apologized to Jenner.
3. Dove Has a Mess to Clean Up.
In this Dove soap Facebook ad in October 2017, an African-American woman is shown removing her brown shirt, which also removes her skin color, resulting in a white woman with a lighter shirt, followed by an Asian woman removing an even lighter shirt- appearing to show stages of cleanliness. Many followers on social media wondered how the ad made it through multiple reviewers, resulting in Dove releasing a statement on its Facebook page, which read "Dove is committed to representing the beauty of diversity. In an image we posted this week, we missed the mark in thoughtfully representing women of color and we deeply regret the offense that it has caused."
4. Corn Pops' Not-so-tasteful Ad
Popular cereal brand Kellogg's Corn Pops faced heavy scrutiny on social media in October 2017 after Hugo Awards-nominated author Saladin Ahmed posted a tweet accusing the brand of teaching racism after he noticed a drawing on the back of the box that illustrated a plethora of yellow Corn Pops carrying out normal tasks but with just one brown-colored Corn Pop acting as the janitor. The company quickly responded to the accusations with an apology.
5. Chinese Detergent Causes a Splash.
Distasteful advertisements aren't only found in the United States. China brand Qiaobi Detergent made headlines in May 2016 after releasing a commercial that shows an Asian woman flirting with a black man who seems to be covered in paint and dirt. The woman lures the man toward her before pushing him into the washing machine, not only for him to come out "clean," but also a totally different race (as an Asian man).
"Qiaobi Detergent Ad Might Be the Most Racist TV Commercial Ever Made," blared the Huffington Post headline. The public outrage ultimately caused the company to pull the ad and issue an apology, saying, "We have no intentions to discriminate against people of color... Ethnic discrimination is something we strongly reject and condemn". The lengthy apology added, "The advertisement and the surrounding controversy have hurt people of African descent. We express our apologies, and also sincerely hope internet users and media won't overanalyze the situation."