Million-dollar ideas are few and far between. Most of us wish for just one of those breakthrough moments when a light bulb appears above our heads and starts spewing money like a slot machine.
In fact, it's seldom so simple, coming up with the big idea or scoring the big break or simply deciding you've got what it takes. More often, it's a study in perseverance, creativity, self-confidence and, every now and then, putting a little frustration to good use.
Here, 10 women who started small and made it big, creating media empires, international beauty conglomerates or companies that Harvard Business School now uses as efficiency case studies.
We'll start the list with a woman who brought us fair trade.
10
Anita Roddick -- The Body Shop
(1942-2007)
In 1976, with her husband traveling extensively and two daughters at home to support, Anita Roddick began a beauty business that would become an ethics phenomenon: The Body Shop was one of the first mainstream enterprises to prominently feature concepts like sustainability, cruelty-free product testing and fair trade.
Roddick began with a tiny store in Brighton, England. Today, there are almost 2,000 Body Shops with 80 million customers speaking 25 different languages worldwide.
Dame Anita (she was knighted in 2003) and her husband sold the company to L'Oreal in 2006.
Up next: She "shapes" our lives.
(1971- )
A woman with a college degree, a job selling copiers and a deep frustration with panty lines, Sara Blakely began with a few thousand dollars in savings and built Atlanta-based Spanx, a $150-million enterprise.
The hosiery brand was born in 1998, when Blakely couldn't find a way to hide thong lines beneath a pair of white pants. Shapers were too bulky, and stockings precluded the strappy sandals she wanted to wear. So she cut the feet off a pair of pantyhose and tried to ignore the way the edges rolled up around her ankles. She then spent two years developing a prototype.
In 2000, Spanx products made it into high-end department stores. Today they come in 100 different styles, including bras.
Up next: A fashion icon raised by nuns.
(1883-1971)
You don't have to be a fashionista to know the name Coco Chanel. Her Paris couture house, forged in the early 1900s as a single hat shop, is still showing on runways.
Gabrielle "Coco" Chanel was born poor, raised an orphan and had a singular sense of style. While designing hats for high-society women, her name was thrown around in Paris society so much she became not only a top designer but also a member of that upper crust.
Chanel closed her fashion house during World War II and reopened in 1954, suddenly finding herself in a fashion world dominated by men. But by the end of that decade, her lines were back in the spotlight, and at the end of the century, she was the only fashion icon on Time's "100 Most Important People of the Century" list.
Up next: She turned homemade skin creams into billionaire status.
7
Estée Lauder -- Estée Lauder Cosmetics
(1906-2004)
She was born Josephine Esther Mentzer, daughter of Hungarian immigrants, and spent her early years in an apartment above her parents' hardware store. She died Estée Lauder, cosmetics mogul, sales innovator and billionaire.
Estée Lauder was selling her chemist uncle's skin care formulations at beauty parlors and spas when, with the help of husband Joseph Lauder in 1948, she decided to take it up a notch. She turned on her famous charm and scored space at a beauty counter at Saks, and those family-made cosmetics became "Estée Lauder."
Through innovative sales and marketing techniques, including giving her richest and most beautiful friends product samples to be seen with, she grew her business into a cosmetics empire that now includes lines like Clinique, Aramis and Prescriptives.
Lauder was the only woman to make Time's list of the 20th century's "Most Influential Business Geniuses."
Up next: Her cookies made her famous.
6
Debbie Fields -- Mrs. Fields Cookies
(1957- )
The 1970s were tough years to be "just" a housewife. At the height of the women's lib movement, 20-year-old Debbie Fields was tired of the condescending looks at dinner parties and set about putting her baking skills to new use. She opened a cookie store.
In 1977, Mrs. Fields' Chocolate Chippery in Palo Alto, Calif., was about to go its first day without a sale when she started handing her product out for free on the sidewalk, and the rest is history.
That business became Mrs. Fields' Cookies, and her baked goods earned her a following, a fortune and a franchising system. More than just a great cookie maker, though, Debbie Fields was an innovator. Harvard Business School uses her company as an efficiency case study.
Debbie Fields ran the company until 1993.
Up next: She gave enterprising women a ready-made space in which to succeed.
5
Mary Kay Ash -- Mary Kay Cosmetics
(1918-2001)
A gifted salesperson and a top trainer in a Texas direct-sales firm, Mary Kay Ash was 45 years old when she left a sexist workplace and revolutionized women's roles in business.
In 1963, Ash took a $5,000 investment and turned it into a business selling beauty products -- but that's just part of the story.
Mary Kay Ash set about giving women a winning role in sales, instituting a revolutionary incentive program and a wholesale-retail structure that allowed for unlimited earnings. She succeeded to the nth degree, building not only a $2.2 billion company but also a space where enterprising women could (and still can) escape the limitations of a male-dominated sales world.
Mary Kay Cosmetics has 1.8 million sales consultants and has won Fortune magazine awards for best places to work and best companies for women.
Up next: The first (kids') doll with boobs.
4
Ruth Handler -- Barbie Doll
(1916-2002)
She has taken flack for her invention, accused of creating an unattainable female ideal for little girls everywhere. But no matter how you look at it, Ruth Handler was a top entrepreneur: Barbie is one of the greatest successes in toy history.
In the mid-1940s, Handler co-founded Mattel, and in 1959, she created Barbie. Named for Handler's daughter, Barbie was the first doll with breasts and, it seems, exactly what the little-girl world had been waiting for.
Handler is also responsible for Chatty Cathy.
Mattel ultimately went through some difficult legal times in the 1970s, and Handler had to resign as president. She then began a new business selling the first realistic-looking artificial breasts designed for breast-cancer survivors.
Up next: A woman who stepped up to help fuel an actual revolution.
3
Mary Katherine Goddard -- Publisher
(1737-1816)
In Colonial America, when most women were raising children and keeping homes in what was then a pretty hard-living New England, Mary Katherine Goddard was acting as the first-ever female postmaster and using her business to further the American Revolution.
In 1777, when no other publisher would touch it, Goddard fearlessly published the first copy of the Declaration of Independence that included the names of its drafters, making herself a member of the rebellion and making the rebellion a sure thing: The signers could no longer back out. While she would never achieve the wealth boasted by the other women entrepreneurs on this list, she earns a high rank for using her business skills to help change history.
Up next: Not even prison could slow her down.
2
Martha Stewart -- Martha Stewart Living
(1941- )
Model, mother, stock broker, caterer, empire builder and queen of living elegantly, Martha Stewart is an entrepreneurial phenom few women, or men, can match.
She is the business mind and "homemaking" skill behind Martha Stewart Living. After her divorce in 1989, having gained experience running a home-based catering business and converting a Connecticut farmhouse into her family's home and a picture of rustic refinement, she turned her skills into an empire.
There were books, a magazine, a TV show -- and finally a "homemaking" media conglomerate that positions her as not only the foremost expert on beautiful living but also one of the wealthiest and most influential women in America.
After serving a jail sentence for insider trading from 2004 to 2005, Stewart resumed her role as head of Martha Stewart Living without missing a beat.
Up next: Even in the world of self-made women, she's a jaw-dropper.
1
Oprah Winfrey -- Harpo Productions
(1954- )
Looking at the power, wealth and philanthropy that is Oprah Winfrey's life now, it's nearly impossible to imagine the difficult childhood that shaped her larger-than-life persona. She overcame long odds to become arguably the most influential woman entrepreneur in history.
Oprah's rise began at the age of 17, when she became the 1972 Miss Black Tennessee. That opened the door to a career in broadcasting, a full scholarship to Tennessee State and an anchor position at a local TV station.
She got her first talk show in 1976, and the genre propelled her not only to stardom -- she is loved by millions of people. In 1986, she founded Harpo Communications and bought the rights to the Oprah Winfrey Show, proceeding to become the wealthiest self-made woman in the country.
Successful actress, activist, broadcaster, producer, media mogul and all-around star, Oprah takes the entrepreneurial Gold.
For more information on self-made women, look over the links on the next page.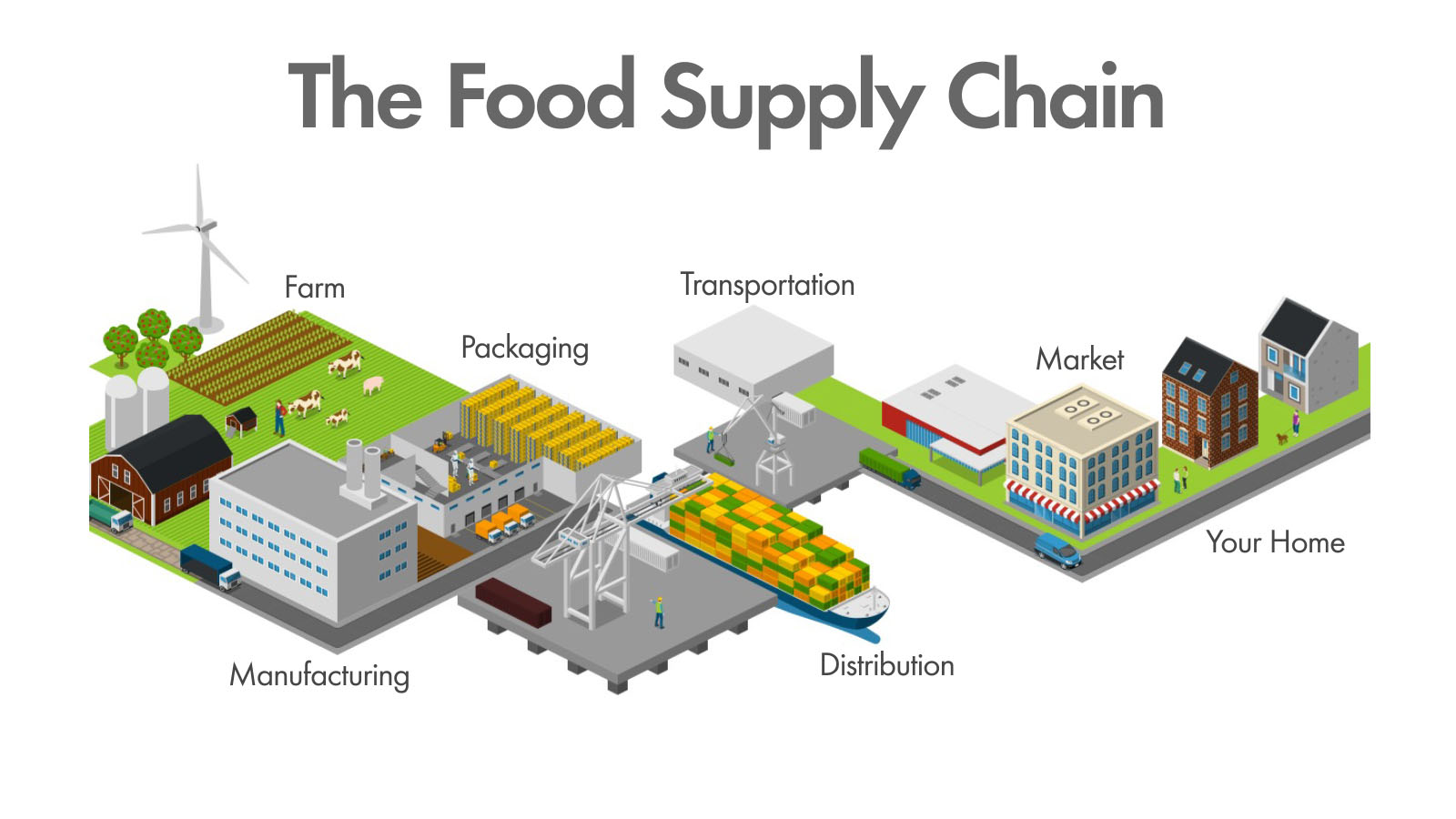 Up Next
The U.S. food supply chain has been rocked by the coronavirus pandemic, but so far, it's still functioning. How long will that last?
---
Related Articles
More Great Links
Sources
"Anita Roddick Biography." Bio. (Oct. 13, 2010)http://www.thebiographychannel.co.uk/biographies/anita-roddick.html

"Coco Chanel Biography." Famous Women and Beauty. (Oct. 13, 2010)http://www.famous-women-and-beauty.com/coco-chanel-biography.html

"Debbie Fields Biography -- One Smart Cookie." Financial Inspiration Café. (Oct. 13, 2010)http://www.financial-inspiration.com/Debbi-Fields-biography.html

"Estee Lauder Biography." Bio. (Oct. 13, 2010)http://www.thebiographychannel.co.uk/biographies/estee-lauder.html

Gordon Roddick. Philanthropy UK. (Oct. 17, 2010)http://www.philanthropyuk.org/Resources/Personalstoriesinphilanthropy/GordonRoddick

"Martha Stewart Biography." Academy of Achievement. (Oct. 13, 2010)http://www.achievement.org/autodoc/page/ste0bio-1

"Mary Katherine Goddard." National Women's History Museum. (Oct. 13, 2010)http://www.nwhm.org/education-resources/biography/biographies/mary-katherine-goddard/

"Mary Kay Ash Biography." Biography.com. (Oct. 13, 2010)http://www.biography.com/articles/Mary-Kay-Ash-197044?part=0

"Oprah Winfrey Biography." Academy of Achievement. (Oct. 13, 2010)http://www.achievement.org/autodoc/page/win0bio-1

Perman, Stacy. "How Failure Molded Spanx's Founded." Business Week. Nov. 21, 2007. (Oct. 17, 2010)http://www.businessweek.com/smallbiz/content/nov2007/sb20071121_049670.htm

"Ruth Handler." American National Biography Online. (Oct. 13, 2010)http://www.anb.org/articles/10/10-02288.html

"Tri Delta's Finest in Business." Delta Delta Delta. (Oct. 13, 2010)https://www.tridelta.org/Alumna/Distinguished%20Deltas/Alumna/Distinguished_Deltas_Business