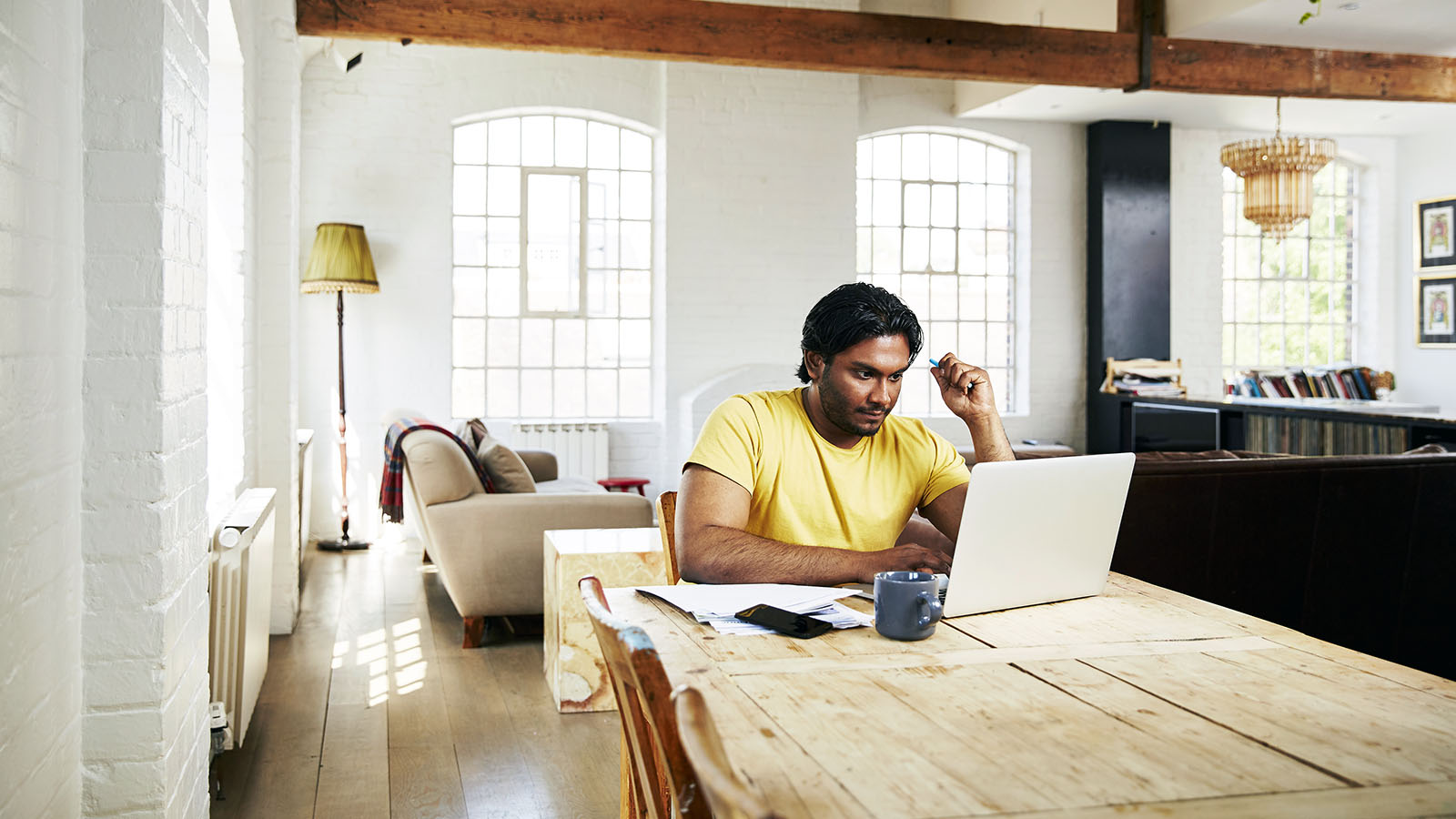 Up Next
If you're new to working from home, it might not be the dream you were expecting. But we have 10 helpful tips to make your teleworking days productive.
---
Author's Note: 10 Overrated Life Decisions
Having made eight out of the ten major life decisions on this list, I feel like I can speak with some confidence about the relative value of each. First, I should say that I don't regret a single major life decision so far. I went to college, got married relatively young, have three amazing kids and a mortgage. All of them have worked out wonderfully. And the ones that didn't work out as wonderfully — climbing the corporate ladder, relocating for a new job — I chalk up to valuable learning experiences. As my editor explained, the point of this article is not to slam anyone's decision to get married or retire, but to point out the pros and cons of each, and encourage readers to think hard about some of life's most potentially "life-changing" choices. In The Game of LIFE, you can always clear the board and start over. In real life, you have to live with your decisions, good or bad.
Related Articles
Sources
Broad, William J. "How Yoga Can Wreck Your Body." The New York Times. Jan. 5, 2012 (April 5, 2013) http://www.nytimes.com/2012/01/08/magazine/how-yoga-can-wreck-your-body.html?pagewanted=all&_r=1&

Cohen, Erica. "Doctors die differently than their patients." Philly.com. Jan. 16, 2013 (April 5, 2013) http://www.philly.com/philly/blogs/fieldclinic/Doctors-die-differently-than-their-patients.html

Collier Cool, Lisa. "Running May Be Harmful to Your Heart." Yahoo! Health. Nov. 30, 2012 (April 5, 2013) http://health.yahoo.net/experts/dayinhealth/running-may-be-harmful-your-heart

Ellis, Blake. "Average student loan debt nears $27,000." CNN Money. October 18, 2012 (April 5, 2013) http://money.cnn.com/2012/10/18/pf/college/student-loan-debt/index.html

Fijolek McKain, Laura. "Is it normal not to want sex after having a baby?" BabyCenter (April 9, 2013) http://business.time.com/2012/12/03/is-it-better-to-rent-or-to-buy/

Goodreau, Jenna. "The 10 Worst College Majors." Forbes. Oct. 11, 2012 (April 11, 2013) http://www.forbes.com/sites/jennagoudreau/2012/10/11/the-10-worst-college-majors/

Grabmeier, Jeff. "Divorce Drops a Person's Wealth by 77 Percent, Study Finds." The Ohio State University. Jan. 17, 2006 (April 5, 2013) http://researchnews.osu.edu/archive/divwlth.htm

Hind, John. "Twenty other reasons not to have a baby." The Observer. Feb. 7, 2009 (April 5, 2013) http://www.guardian.co.uk/lifeandstyle/2009/feb/08/motherhood-children-babies2

Jacobson, Louis. "Occupy Wall Street protestor's sign says 94 percent of deeper-pocketed candidates win." Politifact. Oct. 17, 2011 (April 5, 2013) http://www.politifact.com/truth-o-meter/statements/2011/oct/17/occupy-wall-street/occupy-wall-street-protesters-sign-says-94-percent/

Kiger, Patrick. "7 Jobs with Mandatory Retirement." SecondAct. March 14, 2012 (April 11, 2013) http://www.secondact.com/2012/03/federal-law-prohibits-mandatory-retirement--or-maybe-not/

Levin-Epstein, Amy. "Don't Move! 5 Reasons Not to Relocate for a Job." CBS MoneyWatch. Aug. 27, 2012 (April 5, 2013) http://www.cbsnews.com/8301-505125_162-57500920/dont-move-5-reasons-not-to-relocate-for-a-job/

Maag, Christopher. "5 Reasons Why You Shouldn't Buy a House Right Now." Credit.com. Sept. 7, 2012 (April 5, 2013) http://www.dailyfinance.com/2012/09/07/buying-a-home-5-reasons-not-to-right-now/

Mangu-Ward, Katherine. "Your Vote Doesn't Count." Reason. Nov. 2012 (April 5, 2013) http://reason.com/archives/2012/10/03/your-vote-doesnt-count

Martin, Ray. "401(k) Accounts Hit Record High: Is Yours Enough?" CBS MoneyWatch. February 15, 2013 (April 11, 2013) http://www.cbsnews.com/8301-500395_162-57569677/401-k-accounts-hit-record-high-is-yours-enough/

Moeller, Philip. "6 Reasons Why You Should Never Retire." U.S. News & World Report. March 14, 2012 (April 5, 2013) http://finance.yahoo.com/news/6-reasons-why-never-retire-164549581.html

Murray, Ken. "How Doctors Die." The Saturday Evening Post. March/April 2013 (April 5, 2013) http://www.saturdayeveningpost.com/2013/03/06/in-the-magazine/health-in-the-magazine/how-doctors-die.html

National Center for Education Statistics. "Tuition Costs of Colleges and Universities" (April 5, 2013) http://nces.ed.gov/fastfacts/display.asp?id=76

Parker-Pope, Tara. "Is Marriage Good for Your Health?" The New York Times. April 14, 2010 (April 5, 2013) http://www.nytimes.com/2010/04/18/magazine/18marriage-t.html?pagewanted=all&_r=0

Pierce, Sarah. "Leaving the Rat Race." Entrepreneur. May 21, 2008 (April 5, 2013) http://www.entrepreneur.com/article/194026

Resmovits, Joy. "College Dropout Crisis Revealed in 'American Dream 2.0' Report." The Huffington Post. Jan 24, 2013 (April 5, 2013) http://www.huffingtonpost.com/2013/01/24/college-dropout-crisis-american-dream-20_n_2538311.html

Roth, J.D. "Is It Better to Rent or to Buy?" Time. December 3, 2012 (April 9, 2013) http://business.time.com/2012/12/03/is-it-better-to-rent-or-to-buy/

Smith, Jacquelyn. "20 Question You Should Ask Yourself Before You Relocate for a Job." Forbes. June 21, 2012 (April 5, 2013) http://www.forbes.com/sites/jacquelynsmith/2012/06/21/is-relocating-for-a-job-the-right-decision-for-you/2/

Taha, Nadia. "Opting Out of Parenthood, With Finances in Mind." The New York Times. Nov. 13, 2012 (April 5, 2013) http://www.nytimes.com/2012/11/14/your-money/opting-out-of-parenthood-with-finances-in-mind.html?pagewanted=all

Tahmincioglu, Eve. "Climb the corporate ladder? No, thank you." MSNBC. Jan. 15, 2007 (April 5, 2013) http://www.nbcnews.com/id/16486999/%23.UV3vWKs-t4F

U.S. Department of Agriculture. "Expenditures on Children by Families, 2011." June 2012 (April 5, 2013) http://www.cnpp.usda.gov/Publications/CRC/crc2011.pdf

U.S. Equal Employment Opportunity Commission. "Age Discrimination in Employment Amendments of 1986" (April 11, 2013) http://www.eeoc.gov/eeoc/history/35th/thelaw/adea_amendments_1986.html

Wang, Penelope. "Cutting the high cost of end-of-life care." CNN Money. December 12, 2012 (April 11, 2013) http://money.cnn.com/2012/12/11/pf/end-of-life-care-duplicate-2.moneymag/index.html

Williams, Alex. "Saying No to College." The New York Times. November 30, 2012 (April 5, 2013) http://www.nytimes.com/2012/12/02/fashion/saying-no-to-college.html?smid=fb-share