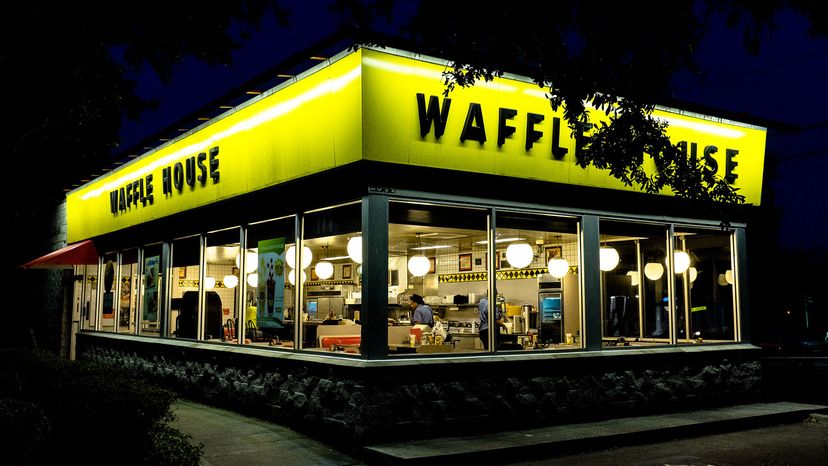 Image: rpavich/CC By 2.0
About This Quiz
Think you know your scattered from your smothered? Take the Waffle House Quiz and find out your WaHo IQ.
Which of these does Waffle House sell the least of?
Oh, the irony of this establishment selling fewer waffles than their greasier counterparts. Still, the titular item pulls its weight as the most profitable part of the menu, thanks to its price sold versus cost of labor and ingredients.
What extras can you expect on your hash browns if you order them "scattered, smothered and covered?"
spread on the grill with tomatoes and chili
spread on the grill with cheese and onions
Hash browns can be ordered plain, smothered (with onions), scattered (spread out on the grill as opposed to cooked in a round, metal ring mold), covered (with American cheese), capped (with mushrooms), diced (with tomatoes), plus a bunch of other options.
cooked in a metal ring mold with mushrooms and ham
Which of the following menu items was not named for a Waffle House employee?
Lib's Patty Melt, Papa Joe's Pork Chops and Walt's Soup were also named in honor of the employees who perfected them.
Which state boasts the most Waffle House locations?
It only makes good sense that Georgia has more than 380 locations, since the original Waffle House was established in the Atlanta suburb of Avondale Estates. South and North Carolina come in at a distant second and third, with 144 and 142, respectively.
What is the Waffle House Index?
A way of describing how Southern a state is — the more Waffle Houses the state has, the more Southern it is perceived by Americans.
FEMA determines how bad a natural disaster is by whether the local Waffle Houses remain open.
FEMA uses Waffle House as an unofficial index for how badly an area is affected by storms. A "green" level means that electricity is on and the restaurant is serving a full menu. "Yellow" means that the site is serving a limited menu and relying on an electrical generator. "Red" means that the store is closed — and it's time to head for the hills!
HUD determines the poverty level of an area by the number of Waffle Houses in the neighborhood.
True or False: Waffle House has a special menu for times when the location has no running water.
Waffle House has a very limited "No Water" menu for those situations where H20 isn't available, like a water main break. Items include hamburgers and grilled chicken sandwiches. Beverages under such circumstances are limited to bottled water and canned drinks.
How many miles worth of bacon does Waffle House serve in a given year?
The bacon Waffle House serves every year could wrap around the equator if laid end-to-end. In fact, the chain serves an average of 341 strips of bacon per minute. That's a whole lotta bacon!
Who gets the day off on holidays at Waffle House?
It's a rotating schedule by holiday.
That's right — everyone is expected to clock in on holidays at Waffle House. In fact, they're typically so busy that the higher-ups work dawn to dusk, or vice versa.
What is a Waffle House "jump team?"
The group that launches a new location
A group brought in to help run the restaurant when disaster hits an area.
Jump teams are usually about 100 people brought in from other areas to keep area Waffle Houses running during times of disaster, like hurricanes. This helps local employees deal with their own property damage and related issues, so they don't have to stress about work.
The workers who run the overnight shift.
What menu item has Waffle House served the most of since opening in 1955?
More than 2.5 billion eggs have been fixed up in one way or another since the first restaurant opened in 1955, with hash browns coming in second with 1.8 billion orders.
rpavich/CC By 2.0