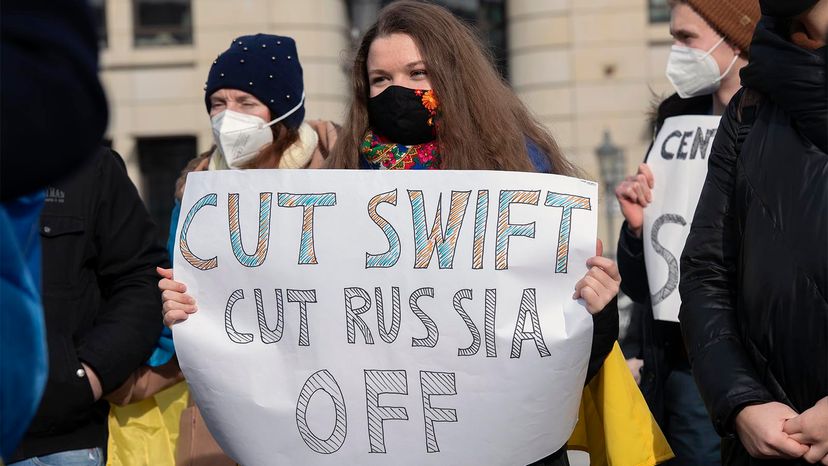 Protesters in Berlin's Paris Square hold signs for Russia to be cut off from SWIFT after Russian troops invaded Ukraine, Feb. 24, 2022.
Paul Zinken/picture alliance via Getty Images
UPDATE: On Feb. 26, 2022, the Biden Administration announced that the U.S., European nations and Canada had reached an agreement to disconnect select Russian banks from the SWIFT system.
In response to Russia's invasion of Ukraine, President Joe Biden — and other European world powers — announced sweeping sanctions against Russia, including:
freezing several Russian banks' assets in the U.S. financial system

restricting the ability of Russia's largest institution, Sberbank, to make transactions in dollars

banning Russian government-owned banks and businesses from selling their debt on U.S. markets

imposing personal financial and travel bans on more than a dozen billionaire oligarchs with ties to Russian president Vladimir Putin

freezing foreign assets of Putin, his foreign minister, Sergei Lavrov, and the defense minister, Sergei Shoigu, in the EU, U.S. and U.K.

banning Russian airlines and private jets from U.K. and EU airspace
But the Biden administration and European allies had held off on one measure that many were calling for them to take against Russia and Putin. They hadn't yet cut off Russian banks from SWIFT, a system that banks use to communicate with one another across the world, until Saturday, Feb. 26. That's when the U.S., European nations and Canada reached an agreement to disconnect select Russian banks from the SWIFT system.
"We commit to ensuring that selected Russian banks are removed from the SWIFT messaging system," the leaders of the European Commission, France, Germany, Italy, the United Kingdom, Canada and the United States said in a joint statement. "This will ensure that these banks are disconnected from the international financial system and harm their ability to operate globally."
Removing Russian banks from SWIFT is just one more restrictive economic measure world powers are taking to hold Russia accountable to "ensure that this war is a strategic failure for Putin," the statement said. But what is SWIFT, anyway? And how potent of a weapon is it in punishing Russian aggression?
What Is SWIFT?
SWIFT, an acronym for Society for Worldwide Interbank Financial Telecommunications, is a global system that banks use to send electronic transaction information and other sorts of messages to other institutions. The system was developed by a group of European banks in the 1960s to replace the slower, less secure method of sending messages over telephone and telegraph lines between teleprinters, according to this 2012 article published in the journal Business History.
The system, headquartered in Belgium, was created in 1973, and within four years, 518 institutions in 22 countries were connected to its messaging services. Since then, SWIFT has expanded to more than 11,000 institutions in 200 countries and territories across the world. The system transmits 8.4 billion messages each year. That volume and widespread usage makes it easy to understand why a recent Bloomberg article called it "the Gmail of global banking."
"The SWIFT system is a way for banks and financial institutions to communicate with each other to manage cross-border payments," says Erin Lockwood, an assistant professor of political science at the University of California, Irvine. "It's part of the infrastructure of global finance. Sometimes it gets conflated with global payments systems, but it's not the actual channel through which capital flows. It's more akin to a secure messaging service."
SWIFT assigns each financial institution a unique code that it uses in international transactions, as this Investopedia article explains. Basically, if a customer at an American bank in New York wants to send money to someone in Italy, the sender provides the recipient's account number at an Italian bank, plus that bank's SWIFT code. The American bank then sends a message to the Italian bank that a payment is on the way. Once the Italian bank gets that message, it clears the transaction and credits the money to the recipient's account.
"Ever move money from one bank to another? The backend of your transaction relies on a message being sent between financial institutions," explains Richard Goldberg, a former National Security Council official who is now a senior adviser at the Washington, D.C.-based Foundation for Defense of Democracies. "The transfer of money is completed in seconds thanks to 1s and 0s being sent across the SWIFT system. It's become the backbone of global financial transactions."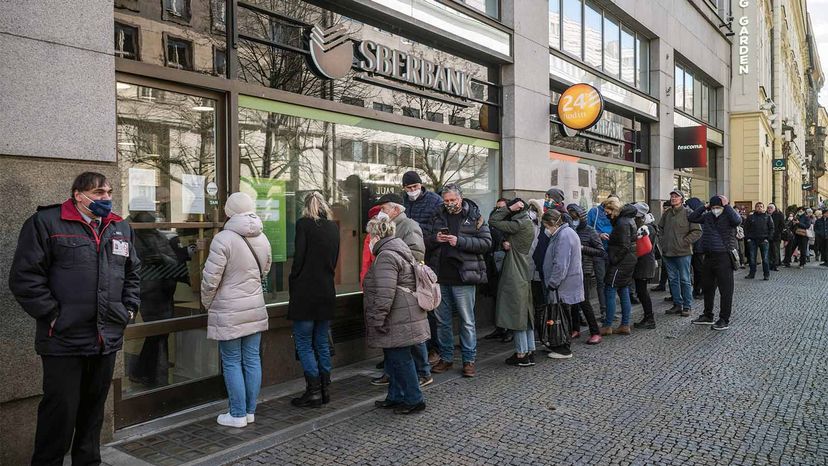 People queue outside a branch of Russian state-owned bank Sberbank in Prague to withdraw their savings and close their accounts Feb. 25, 2022. The bank, which was sanctioned by the U.S. after Russia invaded Ukraine, will close all its branches in the Czech Republic.
MICHAL CIZEK/AFP via Getty Images
Using SWIFT for Sanctions
SWIFT has been used to for sanctions in the past. In 2012 to 2016, Iranian banks were disconnected from the system, as part of an array of restrictions to pressure Iran to curb its nuclear program. In 2017, SWIFT also cut off North Korean banks.
When Iran was cut off from SWIFT in 2012, it took a major hit in lost revenue from oil exports, and experts say that being cut off from the SWIFT system would be a major hindrance to the Russian financial sector.
"SWIFT is how banks communicate and transact," Benjamin A. Jansen, an assistant professor of finance, in Middle Tennessee State University's Jones College of Business, explains via email. "So if Russia is cut off from SWIFT, then businesses and people there will face significant economic consequences by being unable to transact funds as they normally would, especially given how dependent the Russian economy is on exports."
"It would be a big deal to deny Russia's banks access to this service," Lockwood says. "Indeed, it was the threat of doing so after the 2014 Russian invasion of Crimea that led Russia to pursue efforts to develop its own alternative to SWIFT, but uptake of that system has been very, very slow and there are very few users. SWIFT really is the dominant financial communications network, and it's very difficult to dislodge a dominant infrastructure."
The SWIFT system is owned by financial institutions across the world and overseen by the G-10 central banks, which include Belgium, Canada, France, Germany, Italy, Japan, The Netherlands, United Kingdom, Switzerland and Sweden. The U.S., and the European Central Bank have a say as well, according to SWIFT's website.
Some European countries — Germany, in particular — had been reluctant to disconnect Russia from SWIFT, because of the collateral damage that it might cause to their own economies.
"The flipside of the damage that cutting off SWIFT would inflict on the Russian economy is the damage it would do to Russia's counterparties to the transactions being arranged, confirmed and negotiated via SWIFT, most importantly European states heavily dependent on Russian exports, especially in the energy sector," Lockwood says. "Limiting Russian banks' access to SWIFT would also hinder the ability for payments for these goods and services to be efficiently communicated and executed."
However, Germany changed its position on Saturday and joined other European leaders in banning Russia from SWIFT. "We are urgently working on how to limit the collateral damage of decoupling from SWIFT in such a way that it affects the right people," Germany's Foreign Minister Annalena Baerbock and Economy Minister Robert Habeck said in a statement. "What we need is a targeted and functional restriction of SWIFT."
Originally Published: Feb 25, 2022