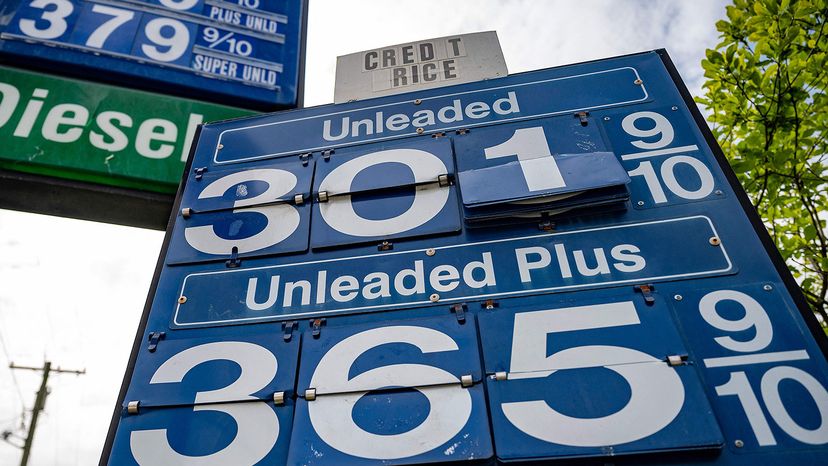 A sign announces the day's gas prices at a station in Annapolis, Maryland, on May 12, 2021. Fears that the shutdown of the Colonial Pipeline because of a cyberattack would cause a gasoline shortage led to some panic buying.
JIM WATSON/AFP via Getty Images
Critics of any president are quick to blame the commander in chief for things that are totally beyond his or her control. (Of course, presidents and their supporters are equally quick to take credit for things that are beyond their control.) The price of gasoline is a perfect example. Donald Trump and his fellow Republicans took credit for low gasoline prices in 2019 [source: Rainey]. And when George W. Bush was in office, Democrats blamed him for allowing gas prices to rise from $1.45 a gallon on his inauguration day to $4.05 a gallon by June 2008 [source: Thaler].
The truth is that no president — Democrat or Republican, friend of "big oil" or supporter of alternative fuels — can do much of anything to affect the short-term price of oil, and therefore gasoline. The overriding factor that determines the price of oil from day to day is the market principle of supply and demand [source: U.S. Energy Information Administration]. It comes down to simple economics: When demand is greater than supply, prices rise.
The actual price of a barrel of oil is constantly changing, since oil is a commodity that is traded on the futures market. Buying and selling oil futures is called speculating, because you're making trades based on expectations of future supply and demand.
And for a while, demand was skyrocketing. After the Great Recession ended, demand steadily increased as the global economy recovered and kicked back into high gear. To match that demand, U.S. oil production rose dramatically from around 5,000 barrels a day in 2009 to a record high of 13,100 barrels a day in early 2020 [source: Macrotrends]. Thanks in large part to the drilling technology called hydraulic fracturing (or " fracking"), American oil producers were able to keep pace with demand and keep gasoline prices stable.
The COVID-19 pandemic slashed global demand and hit the oil and gas industry hard. One upside of the global oil glut was lower gasoline prices at the pump [source: Associated Press]. But that changed in May 2021, when the Colonial Pipeline system, which moves about 45 percent of the East Coast's fuel, had to shut down after hackers got into its servers and encrypted its data, demanding money to restore access. (The hackers are thought to be based in Russia.) The shutdown caused increases in gas prices and fuel shortages in some Eastern states. Panicked buying of gas in response to fears about gas shortages only made the problem worse.
So if gasoline prices are largely at the mercy of global fluctuations in supply and demand (plus the occasional pandemic), what can a president actually do, if anything, to influence gas prices? Find out next.