IRS Tax Enforcement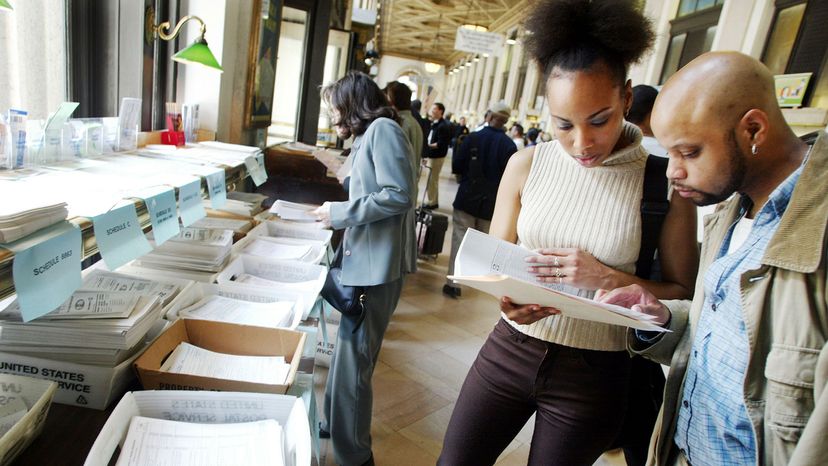 Nicole Inocent (L) and Clayton Belmontes look through income tax forms at a post office during the last day for filing taxes April 15, 2002 in New York City. E-filing has made standing in post office lines less of an issue.
Mario Tama/Getty Images
The IRS reports that in 2017 it processed 245.4 million federal tax returns, collected $3.4 trillion in revenue and handed out $437 billion in refunds. This is an enormous task, especially considering some people's reluctance to fork over money to the government.
So how does the IRS convince taxpayers to hand over hard-earned cash every year? As is the case with most laws, much of the tax system relies on people's willingness to voluntarily comply. Of course, employer withholding of income tax is one of the most effective tools, but fear of being audited and solicited by tax collectors helps ensure enforcement otherwise. The IRS estimates that 83.7 of taxpayers voluntarily comply with the tax laws and file their returns in a timely fashion.
An IRS audit is an examination of your tax records to make sure you paid all you owed. If the IRS selects you to be audited, it doesn't necessarily mean they suspect you of underpaying your taxes. The possibility of being audited, however, is a good reason to stay honest and make sure you keep good records — especially if you claim itemized deductions. A randomized computer selection determines who gets audited, but it isn't entirely random. Some people, including those who are self-employed or receive tips, are more likely to be selected [source: Daily].
That said, your odds of getting audited in person are extremely low, especially since the IRS workforce has shrunk almost 15 percent since 2012 [source: IRS]. In 2017, only 1.1 million (0.5 percent) of all returns were flagged for "examination" and only 309,000 resulted in in-person field audits. The other 750,000 were simply sent letters requesting more documents or clarification [source: IRS].
If you simply can't afford to pay your tax bill in April, file your return anyway and contact the IRS to set up a payment plan. If you don't, interest on your tax debt will start accruing daily and the IRS could put a lien on your assets and freeze your bank accounts until the debt is paid.
In any case, if you want to avoid problems with the IRS, take a look at the links below and learn more about taxes.
IRS FAQ
How do I check the status of my stimulus check?
When should I get my stimulus check?
The IRS sent out its final round of second stimulus checks on Jan. 15, 2021. The payments were sent via check or direct deposit, if you provided the IRS with your bank account information.
How do I contact the IRS by phone?
You can call 800-829-1040 to reach the IRS. You can also contact your local IRS office by phone; the number will vary based on location.
Can I chat with the IRS online?
No, you cannot chat with the IRS online. However, the IRS website does have a wealth of information about different types of tax issues and questions on its website, and visitors are encouraged to find answers on the official website.
How do I speak to IRS customer service?
You'll want to call 800-829-1040 to speak with IRS customer service representatives. You can reach the customer service team Monday through Friday from 7 a.m. to 7 p.m. local time.
Originally Published: Apr 15, 2019
Related Articles
More Great Links
Sources
Daily, Frederick. "Why the Self-Employed Are Audit Targets." Nolo (April 3, 2019) https://www.nolo.com/legal-encyclopedia/tax-audits-target-self-employed-29498.html

IRS. "Enforcement: Examinations" (April 3, 2019) https://www.irs.gov/statistics/enforcement-examinations

IRS. "IRS Budget and Workforce" (April 3, 2019) https://www.irs.gov/statistics/irs-budget-and-workforce

IRS. "IRS Modernization" (April 3, 2019) https://www.irs.gov/newsroom/irs-modernization

IRS. "Returns Filed, Taxes Collected and Refunds Issued" (April 3, 2019) https://www.irs.gov/statistics/returns-filed-taxes-collected-and-refunds-issued

IRS. "SOI Tax Stats - Individual Income Tax Returns Publication 1304" (April 3, 2019) https://www.irs.gov/statistics/soi-tax-stats-individual-income-tax-returns-publication-1304-complete-report#_IndReturns

IRS. "The Tax Gap" (April 3, 2019) https://www.irs.gov/newsroom/the-tax-gap

U.S. Department of the Treasury. "Department of the Treasury." 2006 (April 3, 2019) https://www.treasury.gov/about/education/Documents/brochure%20(1).pdf

U.S. Department of the Treasury. "IRS Oversight Board" (April 3, 2019) https://www.treasury.gov/irsob/Pages/default.aspx