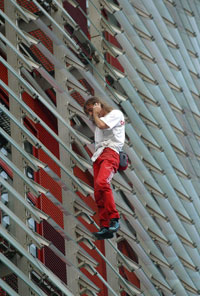 Cesar Rangel/AFP/Getty Images
You've probably seen the commercial: A woman, hanging from the side of a mountain, receives a text message on her cell phone. The message is from her bank, telling her that her account is about to be overdrawn. With just a few clicks on her phone, she transfers funds from her savings account to her checking account. Problem solved. She finishes her climb, confident that her financial life remains in order.

This scenario, though highly dramatized for effect, illustrates what many believe is the future of banking. It's mobile banking, or m-banking, which enables mobile phone users to access basic financial services even when they are miles away from their nearest branch or home computer. In some parts of the world, such as the Philippines, Brazil and Africa, mobile banking is already flourishing. But in the United States, only about 10 percent of consumers -- about 1.7 million people -- currently use their cell phones to conduct bank transactions. That number is expected to grow to 35 million by 2010 [source: CNBC].
Several trends will drive this growth. First, more banks are rolling out mobile banking solutions, paralleling a move by major cellular carriers to upgrade their networks to deliver faster data speeds. At the same time, people are investing in more advanced, Web-ready phones and personal digital assistants (PDAs), although we'll see that even basic cell phones are perfectly capable of delivering mobile banking services. And, finally, awareness and consumer confidence are on the rise.
Awareness is what this article is all about. On the next few pages, we will explore the various aspects of mobile banking, from the technologies involved to the types of services you can expect to receive. But before we dive into technical details, let's be clear about what mobile banking is -- and what it isn't. Let's start with some context and a more formal definition.
Mobile Banking Background
Peter Ruck/BIPs/Getty Images
For 30 years, financial institutions have been on a quest to satisfy their customers' need for more convenience. First came the automated teller machine (ATM), which New York's Chemical Bank introduced to the American public in 1969. It did little more than dispense cash at first, but the ATM evolved over time to become a true bank-away-from-bank, providing a full suite of financial transactions.
Then came Internet banking in the mid-1990s, which enabled consumers to access their financial accounts using a home computer with an Internet connection. Despite its promise of ultimate convenience, online banking saw slow and tentative growth as banks worked out technology issues and built consumer trust. Today, Internet banking has reached a critical mass, with about 35 percent of U.S. households conducting bank transactions online [source: Information Week].
Yet banking at the living room computer still has some serious limitations. First, only 62 percent of American households have a computer, according to a 2003 study conducted by the U.S. Census Bureau. And only 28 percent of Americans have broadband Internet access, which is essential to efficient, convenient service [source: GAO]. The biggest issue, however, is mobility. Even with a laptop, it's almost impossible to stay connected in virtually any location on the planet.
Not so with mobile phones. They can be carried anywhere and are -- by an enormous number of people. More than 238 million people in the U.S. have mobile phones. That's a whopping 78 percent of the population. And worldwid­e there are more than 3.25 billion mobile phone subscribers, with penetration topping 100 percent in Europe [source: ZDNet].
If mobile phones only delivered voice data, then their use as a vehicle to deliver banking services would be limited. Most phones, however, also provide text-messaging capabilities, and a growing number are Web-enabled. That makes the mobile phone an ideal medium through which banks can deliver a wide variety of services.
Banks classify these services based on how information flows. A pull transaction is one in which a mobile phone user actively requests a service or information from the bank. For example, inquiring about an account balance is a pull transaction. So is transferring funds, paying a bill or requesting a transaction history. Because banks must respond or take some action based on the user request, pull transactions are considered two-way exchanges.
A push transaction, on the other hand, is one in which the bank sends information based on a set of rules. A minimum balance alert is a good example of a push transaction. The customer defines the rule -- "Tell me when my balance gets below $100" -- and the bank generates an automatic message any time that rule applies. Similar alerts can be sent whenever there is a debit transaction or a bill payment. As these examples illustrate, push transactions are generally one way, from the bank to the customer.
You can also classify mobile banking based on the nature of the service. Transaction-based services, such as a funds transfer or a bill payment, involve movement of funds from one source to another. Inquiry-based services don't. They simply require a response to a user query. The chart below summarizes these various types of mobile banking services.



Push

Pull


Transaction




Funds transfer
Bill payment
Share trade
Check order


Inquiry

Minimum balance alert
Credit/debit alert
Bill payment alert

Account balance inquiry
Account statement inquiry
Check status inquiry
Transaction history
­
Clearly, push transactions are not as complex as their pull counterparts. Mobile banking solutions also vary in their degree of complexity, and some only offer a fraction of the services you would find in a bricks-and-mortar branch. In this respect, mobile banking isn't always full-service banking. The factors that affect this are the type of phone being used, the service plan of the mobile subscriber and the technology framework of the bank. We'll look at these technologies next.
­
Basic Mobile Banking Technologies
There are four fundamental approaches to mobile banking. The first two rely on technologies that are standard features on almost all cell phones.
Interactive Voice Response (IVR)
If you've ever called your credit card issuer and meandered through a maze of prompts -- "For English, press 1; for account information, press 2" -- then you're familiar with interactive voice response. In mobile banking, it works like this:
Banks advertise a set of numbers to their customers.
Customers dial an IVR number on their mobile phones.
They are greeted by a stored electronic message followed by a menu of options.
Customers select an option by pressing the corresponding number on their keypads.
A text-to-speech program reads out the desired information.
IVR is the least sophisticated and the least "mobile" of all the solutions. In fact, it doesn't require a mobile phone at all. It also only allows for inquiry-based transactions, so customers can't use it for more advanced services.
PNC/Getty Images
Short Message Service (SMS)
In some circles, mobile banking and SMS banking are synonymous. That's because SMS banking uses text messaging -- the iconic activity of cell phone use. SMS works in either a push mode or a pull mode. In pull mode, the bank sends a one-way text message to alert a mobile subscriber of a certain account situation or to promote a new bank service. In push mode, the mobile subscriber sends a text message with a predefined request code to specific number. The bank then responds with a reply SMS containing the specific information.
SMS banking has several advantages:
It works on virtually every cell phone, regardless of manufacturer, model or carrier.
It's a familiar, ubiquitous technology. There were 1.5 trillion text messages sent in 2007 -- a number that will grow, according to Gartner, to 2.3 trillion by 2010 [source: ZDNet].
Sending text messages is relatively cost-effective. Text messages typically cost 10 to 15 cents each (to send or receive) when purchased individually, but can cost as little as one cent or less when part of a monthly calling plan.
It accommodates two-way communication, allowing messages to be initiated by banks or by customers.
The disadvantages of SMS are related to the inherent limitations of text messaging. For example, messages can only be 160 characters in length. Plus, there are no guarantees that a message will actually be delivered to its recipient. But most troubling for banks is the inability of SMS to deliver a custom interface. More advanced mobile banking solutions, like those we will discuss in the next section, overcome these challenges.
Advanced Mobile Banking Technologies
David Paul Morris/Getty Images
The next generation of mobile banking is the most similar to the Internet banking paradigm. It requires an application -- either a browser or a standalone application -- and a more advanced smartphone to run it. Smartphones are more like real PCs, with an identifiable operating system and advanced functionality, such as enhanced data processing and connectivity. There are two approaches to setting up this type of mobile banking.
Wireless Application Protocol (WAP)
WAP is the technology architecture that makes accessing Internet pages possible from a mobile phone. Because it includes the concepts of browsers, servers, URLs and gateways,
WAP provides a user experience that echoes Internet banking conducted on a home computer. This is an attractive feature to many banks, who also appreciate the fact that customers don't have to download any proprietary software to enjoy robust access to a full line of services and transactions.
WAP banking does have its disadvantages:
The browsers that run on mobile phones must work on a very small screen. As a result, banks must create "mobile-friendly" sites that work more efficiently in cramped quarters. Even with such accommodations, the number of clicks required to complete a task can be prohibitive.
WAP banking requires a smart phone or a PDA, but such devices represent less than 10 percent of the phones in use. Even if a customer has a WAP-enabled phone, he or she can elect not to sign up for the more costly data plans required for Internet access.
Mobile phones lack the level of anti-virus and personal firewall protection now considered standard on PCs.
Two-way communication isn't possible. Customers can initiate a dialog, but banks can't.
Standalone Mobile Application
Some banks are now providing a downloadable client that mobile subscribers can use to access bank services. These mobile applications offer a reliable channel and enable users to conduct even complex transactions. They also allow banks to customize the interface and brand it accordingly.
Although this solution likely represents the future of mobile banking, there are some issues. First, users are forced to download, install and learn a proprietary application. Not only that, the application must be customized to each mobile phone on which it will reside, greatly increasing development costs. And just like the mobile browsers used in WAP banking, these standalone applications are vulnerable to attacks, have limited availability and can only accommodate customer-initiated communication.
As a financial institution prepares for the mobile banking revolution, it must weigh the advantages and disadvantages of these various solutions to decide which one best meets the needs of its customers and its own technology infrastructure. In the next section, we'll look at the specific mobile banking solutions of two leading banks.
Current Mobile Banking Providers
Although several financial institutions, including Wachovia, Washington Mutual, Wells Fargo and ING Direct, are launching mobile banking services, we are going to look at two of the largest and most developed -- Mobile Banking from Bank of America and Citi Mobile from Citibank.
Mobile Banking from Bank of America
Bank of America chose wireless application protocol as its technology platform. That means any cell phone with Web access can use the service -- without downloading any software. However, any customer who wishes to use the mobile banking services must be set up in online banking. That's because all transfer and payee information must be set up on a PC prior to making payments or transfers in Mobile Banking. Once these criteria are met, customers can:
Access their checking, savings, credit card, mortgage, line of credit, loan and other Bank of America accounts
Pay bills anywhere, anytime
Transfer funds from one Bank of America account to another
Locate branches or ATMs
Get maps and directions
Bank of America advertises its Mobile Banking as free, but that doesn't mean customers won't incur costs. They will be charged access rates depending on their mobile carrier. Those who wish to use mobile banking regularly will be better off signing up for a data plan providing a certain allotment of data and text messages for a monthly fee. Such a plan is likely more cost-effective than paying for several one-off charges.
Citi Mobile from Citibank
Citibank opted for the application-based approach to its mobile banking offering. Like Bank of America Mobile Banking, Citi Mobile requires that users spend some time on a PC getting the service set up. Citi Mobile customers must also download software -- a custom, Citibank-branded interface -- to their phones. Here's how the process works:
Citibank customers sign on to their online banking accounts and enter their cell phone numbers, the name of their wireless carriers, and their cell phone models. This information is necessary because the Citi Mobile application must be customized to the make and model of the phone.
After customers enroll, two text messages land in their cell phone inbox: The first with download instructions and the second with an activation key, which is required to set up the application on the phone.
Customers download and install the application to their phone, a process that takes about two to three minutes.
Next, customers launch the application and enter their activation keys and cell phone numbers to initiate the mobile banking service. They're ready to sign on. Every time they sign on, customers will need to enter their telephone access codes -- the same code they use to access Citibank's telephone banking service.
The Citi Mobile interface provides access points into account information and activity, payments and transfers. It also allows users to find Citibank locations and to connect to customer service with a single click.
Citibank is looking to push the boundaries of mobile banking with some innovative cell phone trials. One trial, a partnership with MasterCard, AT&T and Nokia, involves placing near field communications (NFC) chips in certain Nokia phones. By passing the phone within a few inches of a reader, the NFC chip can be used to charge a payment to the user's credit or debit card. Such a payment is called an m-payment, an exciting concept in the world of mobile banking.
M-payments will be possible even when the phone's user doesn't have a bank account. In such a situation, a cell phone owner buys prepaid units from a mobile operator and then uses those units to pay for goods and services at a partnering service provider or retailer. Some see this type of transaction as a vital way to get basic financial services to populations in developing countries or in rural or remote areas, where people are more likely to have cell phones than bank accounts.
So perhaps a future commercial for mobile banking will not show an American woman hanging from a cliff in the Utah badlands, but a Kenyan villager using her cell phone to make a money transfer in downtown Nairobi.
For more information on mobile banking and related topics, see the links on the next page.
How Cell Phones Work
More Great Links
Sources
"Broadband Deployment Is Extensive throughout the United States, but It Is Difficult to Assess the Extent of Deployment Gaps in Rural Areas." U.S. Government Accountability Office. May 2006.
http://www.gao.gov/new.items/d06426.pdf
"Bush Broadband Goal Gored -- US Broadband Penetration Breaks 70% Among Active Internet Users -- Broadband Study Highlights Two-Speed Europe -- May 2006 Bandwidth Report." WebSiteOptimization.com.
http://www.websiteoptimization.com/bw/0605/
Citi Mobile from Citibank.
https://web.da-us.citibank.com/cgi-bin/citifi/scripts/prod_and_service/prod_
serv_detail.jsp?BS_Id=CitiMobile&BV_UseBVCookie=yes
"Computer and Internet Use in the United States: 2003." A Special Study from the U.S. Census Bureau.
http://www.census.gov/population/www/socdemo/computer.html
Dave, Mona. "Mobile Banking." IndianMBA.com.
http://www.indianmba.com/Faculty_Column/FC352/fc352.html
"Global mobile phone use to pass record 3 billion." ZDNet News: June 27, 2007. http://news.zdnet.com/2100-1035_22-6193559.html
Malykhina, Elena. "2007 Is Looking Like The Year Cell Phone Banking Gets Started." InformationWeek. Nov. 27, 2006.
http://www.informationweek.com/news/telecom/showArticle.jhtml?articleID=
195900192
Mobile Banking from Bank of America.
http://www.bankofamerica.com/onlinebanking/index.cfm?
template=mobile_banking
Pisani, Joseph. "Money Talks: Banks Start to Offer Mobile Service on Cell Phones." CNBC.com: June 26, 2007.
http://www.cnbc.com/id/19371521
Quain, John R. "Cellphone Banking Is Coming of Age." The New York Times. May 24, 2007.
http://www.nytimes.com/2007/05/24/technology/24basics.html?_r=1&
oref=slogin
"Realizing the Potential of Mobile Banking." Expanding Horizons. January 2008.
http://www.nokia.com/A4425066.
Rotimi, Adagunodo Emmanuel; Oludele, Awodele and Bamidele., Ajayi Olutayo. "SMS Banking Service: A 21st Century Innovation in Banking Technology." Issues in Informing Science and Information Technology. Vol. 4, 2007.
http://proceedings.informingscience.org/InSITE2007/IISITv4p227-234
Adag332.pdf
Salesky, Joseph. "Creating Value from Mobile Banking." Financial Services Technology.
http://www.usfst.com/pastissue/article.asp?art=270959&issue=214