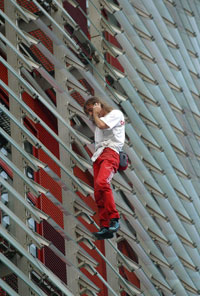 Cesar Rangel/AFP/Getty Images
You've probably seen the commercial: A woman, hanging from the side of a mountain, receives a text message on her cell phone. The message is from her bank, telling her that her account is about to be overdrawn. With just a few clicks on her phone, she transfers funds from her savings account to her checking account. Problem solved. She finishes her climb, confident that her financial life remains in order.

This scenario, though highly dramatized for effect, illustrates what many believe is the future of banking. It's mobile banking, or m-banking, which enables mobile phone users to access basic financial services even when they are miles away from their nearest branch or home computer. In some parts of the world, such as the Philippines, Brazil and Africa, mobile banking is already flourishing. But in the United States, only about 10 percent of consumers -- about 1.7 million people -- currently use their cell phones to conduct bank transactions. That number is expected to grow to 35 million by 2010 [source: CNBC].
Several trends will drive this growth. First, more banks are rolling out mobile banking solutions, paralleling a move by major cellular carriers to upgrade their networks to deliver faster data speeds. At the same time, people are investing in more advanced, Web-ready phones and personal digital assistants (PDAs), although we'll see that even basic cell phones are perfectly capable of delivering mobile banking services. And, finally, awareness and consumer confidence are on the rise.
Awareness is what this article is all about. On the next few pages, we will explore the various aspects of mobile banking, from the technologies involved to the types of services you can expect to receive. But before we dive into technical details, let's be clear about what mobile banking is -- and what it isn't. Let's start with some context and a more formal definition.