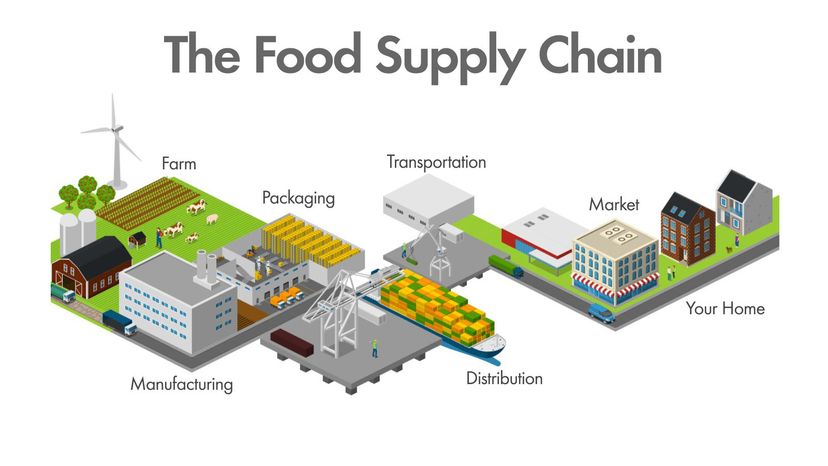 This graphic shows a simple illustration of the food supply chain, from farm to table.
Icograms.com/Howstuffworks.com
If you've been to a supermarket in the past month or so, you may have been shocked by the sight of empty shelves and cartons of eggs that cost up to three times as much as usual. It's been more difficult to get meat as well. In early April, a major meat processing plant had to shut down indefinitely because employees tested positive for COVID-19, and since then, scores of other meat plants across the U.S. have closed or else are running at limited capacity.
Meanwhile, in California, which produces much of the nation's fruit and produce, are struggling. A survey released May 5 by the California Farm Bureau Federation found that one third of farmers haven't been able to start routine planting cultivation and care of crops because they lack protective equipment for their laborers, who must work in close proximity to one another.
Even with all this grim news, the U.S. Department of Agriculture's chief economist wrote in an April 16 blog post that the department's data indicated that "the U.S. agricultural market will remain well supplied and food will continue to be affordable." Even so, the still-escalating crisis clearly has put stress on the supply chain that normally enable foodstuffs to get from farm fields to Americans' dinner tables, and do it so efficiently that many of us probably barely even think about where our usual bountiful supply of fresh fruit, veggies, meats and countless varieties of pasta and breakfast cereal comes from. Even fast food giant Wendy's had to pull burgers and other beef dishes from the menus of nearly 1,000 of its restaurants because of a meat shortage, while Beyond Meat, the plant-based alternative to beef, reported skyrocketing first quarter sales increases of 141 percent.
Coronavirus Rocked the Nation's Food Supply
Experts say that the risk of COVID-19 has forced food processing plants to utilize precautions that have slowed production lines, and reduced the variety of products in the interest of efficiency. Additionally, as shutdown orders deter Americans from dining out, the surge in demand for food that can be prepared at home — and the difficulty of making it available to consumers while maintaining social distancing — has compelled grocery stores to revamp their way of doing business on the fly. Even after the pandemic eventually becomes a bad memory, the changes and innovations that resulted from it may permanently alter the way that Americans get their food.
One of the biggest challenges has been that the pandemic forced a sudden, drastic change in where and what Americans eat. In normal times, for every dollar that Americans spend on food, 54 cents of every dollar goes to eating in restaurants or buying takeout meals, according to Doug Baker. He's vice president of industry relations for FMI, the Food Industry Association, which represents producers and retailers. But starting in mid-March, as states began imposing lockdown and stay-at-home orders, that all abruptly changed. With schools and businesses closing down in rapid succession, Americans of all ages soon were eating all of their meals at home, and needing more and more groceries.
"It was almost a perfect storm, in terms of food industry," Baker says.
What's Changed for Farmers and Food Producers?
The sudden change created massive problems for farmers and food producers, who were used to growing and packaging a lot of their output in industrial-size quantities for restaurants and school cafeteria kitchens. As this New York Times article describes, without restaurants frying onion rings — a food that people seldom make at home — there suddenly was no market for 50-pound (22-kilogram) sacks of onions. Ditto for the vast quantities of milk that go into lattes and other drinks at coffee shops across the land. That left farmers with little choice but to dump or bury their output, and led critics to castigate the Department of Agriculture for what they said was slowness in reorganizing to get the surplus to people who needed it.
"It's not a lack of food, it's that the food is in one place and the demand is somewhere else and they haven't been able to connect the dots", former Obama Administration Agriculture Secretary Tom Vilsack told Politico in late April. "You've got to galvanize people."
Meanwhile, ordinary consumers were clamoring for different foods and other products that they were afraid they might not be able to get.
"Early on, it was home cleaning products, household care, personal health," Baker recalls. "Then as we came into the major spike, and people were asked to be able to shelter in place, the concern became being able to access food." Initially, people cleared the shelves of perishable products such as milk, eggs and bread, and gradually, as fears of quarantines arose, they began grabbing up canned and frozen vegetables, pasta, ramen noodles, and other stuff that would last longer in a crisis.
According to Baker, the result was an unprecedented surge in demand that peaked during the third week in March, with the nation's grocery retailers seeing sales go up by 30 percent. "It was sort of like having Easter every day, " Baker says. After that, demand eased off a bit, with people following government orders to stay at home, or else not feeling comfortable going out and possibly risking infection.
But by then, the shift in consumption already had rocked the nation's food supply chain, in which products pass through a variety of stages before they reach the people who eat them. As Baker describes, food that's grown on farms goes to processing plants, where it's made into products and packaged. Then it's shipped to warehouses, which in turn deliver it to grocery stores, where it's picked off the shelves and tossed into shopping carts by the eventual users.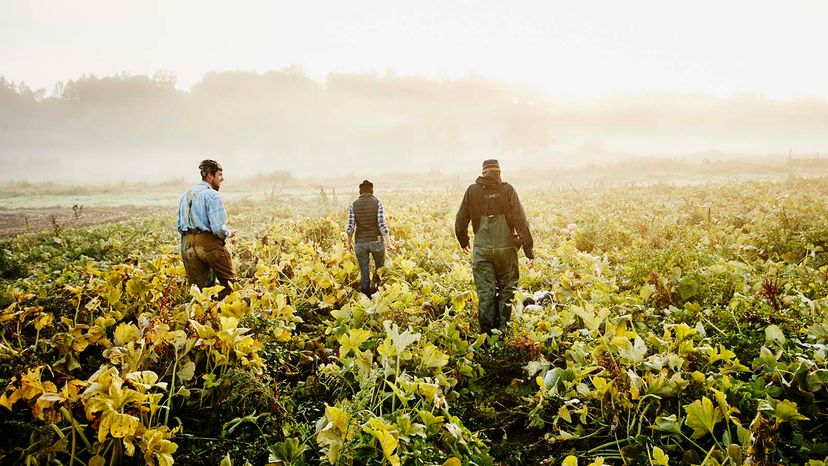 The food supply chain starts at the farm with the farmers.
Thomas Barwick/Getty Images
The Food Supply Chain During Normal Times
In normal times, the different parts of the supply chain each maintain several months' worth of safety stock, so that they can cope with fluctuations in supply and demand. When the coronavirus crisis hit, though, those backup supplies throughout the system were used up in just 10 days, according to Baker.
Replenishing those supplies of food has been tougher, because of the coronavirus. So far, only a few facilities actually have had to suspend operations due to COVID-19 cases among the workforce, according to Martin Bucknavage, a senior food safety extension associate in the food science department at Penn State University. But staying open has necessitated changes in practices that can slow down and limit output.
"These precautions are necessary to help protect workers who may work in close proximity to each other on production/processing lines," Gregory P. Martin, a poultry extension educator for Penn State Extension, explains via email. "Hand sanitizing and donning outerwear are normal practices in food processing plants, so additional personal protection equipment would be another layer of protection for the worker."
"It has been an adjustment for facilities to adjust, for example, to enact spacing, where possible and other precautions," Bucknavage says. "We may be able to tell more after a few more weeks regarding supply chain issues."
In order to keep production rolling with those added measures, "many operations have simplified their product offerings, and this is one thing that is noticeable at the grocery store — less selection, for example and sizes," Bucknavage explains.
If a farmer can't get his product to the market, either directly or through another means of distribution, then that breaks the supply chain.
Thomas Barwick/Getty Images
How Food Suppliers Are Adjusting
In order to cope with the demand, food manufacturers started cutting the warehouse step out of the chain, shipping from their plants directly to supermarkets. But at the retail end, other challenges emerged. As stores rushed to install plexiglass sneeze shields for cashiers and equip employees with protective gear, consumers increasingly began ordering their food online, either from stores or food delivery services such as Instacart, FreshDirect and Peapod. Before the pandemic, about 3 percent of grocery stores' business was e-commerce, according to Baker. While hard figures aren't yet available, retailers have seen rises ranging from 12 and 20 percent, he says.
This is significant, because buying groceries over the internet turns out to be surprisingly labor-intensive. "As a customer, I normally pick my food and put it into basket myself," Baker says. "Now, grocers have to do it." There's only so much labor to handle those orders, which is forcing grocery stores to schedule curbside pickup and delivery windows days in advance, due to the demand. (Here are more details from GroceryDive on how e-commerce grocery services scrambled to keep up.)
Additionally, the sudden surge in e-commerce means that store employees or delivery-service workers are grabbing groceries and products off the same shelves that old-school in-person shoppers are relying upon, so there's not as much stuff for them. To fix that problem, Baker says, some retailers have been setting up separate, automated micro-fulfillment centers, which get their own shipments of groceries.
The micro-fulfillment centers are a grocery industry trend that most likely will accelerate, according to Baker. Additionally, even before COVID-19 retailers, such as Walmart had begun to look at using autonomous vehicles to make deliveries. At some point in the future, it may be that when you order groceries online, robots will handle much of the process of getting it to you. That could make it a lot easier to get food during future pandemics.
For the present, though, U.S. food supply chain will continue to depend upon human labor. Even with added precautions that makes them vulnerable to COVID-19, especially if the virus rapidly spreads in rural areas the way that it has hit urban populations. There are worrisome signs that is already happening. An analysis from the Kaiser Family Foundation showed that mostly rural counties saw a 125 percent increase in coronavirus cases and a 169 percent increase in coronavirus-related deaths in the two weeks prior to April 27, which was higher than cases in metro counties, where a significant part of the U.S. population lives.
"Categories which are produced in indoor, large-scale labor intensive plants (such as meat) are most at risk," explains Karan Girotra, a professor of operations, technology and information management at Cornell University and an expert in supply chain, explains via email. "As social distancing is harder in these factories, employees are financially insecure, labor is often migrant labor, and there is limited access to health care for these employees. So they are vulnerable and given the high level of consolidation, even one facility or one breakout can take significant supply off the market. Labor is the weakest link in these categories."
Originally Published: Apr 16, 2020