Places to Volunteer at Christmastime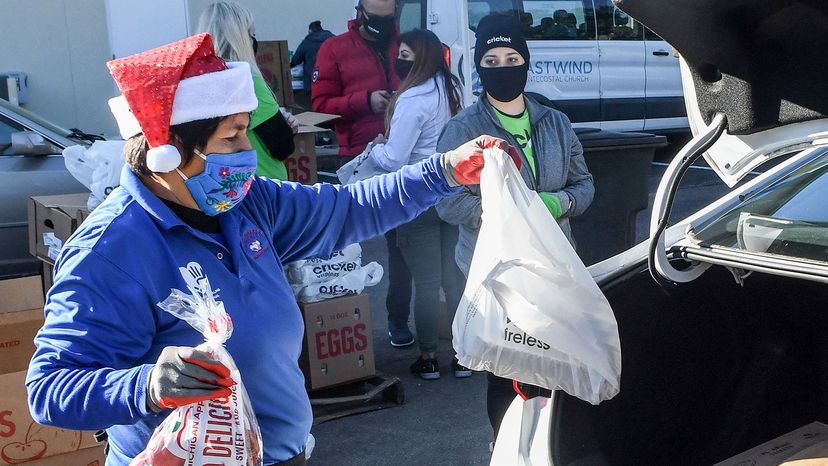 One of the most common places to volunteer during a typical Christmas season is a soup kitchen or homeless shelter. If that piques your interest, the Salvation Army or your local shelter are good places to contact for possible opportunities.
Nursing homes and hospitals are always great options for volunteering, too, because many patients don't get visitors around the holidays. You can help ease patients' loneliness by bringing in a deck of cards and playing a few games or simply sitting down for a chat.
Because there's often a spike in violence around Christmas, battered women's shelters typically need people to donate items such as toiletries, clothes and toys. In addition to donating these items, you could also help pick up others' donations, serve meals at the shelter or help entertain the children.
If animals are your thing, the local animal shelter may welcome help walking dogs on Christmas so the staff can have the day off.
Other ideas include volunteering to wrap the gifts that organizations get for needy children, helping the local hospice or meals-on-wheels group deliver meals, and inviting a solider who is stationed away from his or her family for Christmas dinner.
During the COVID-19 era, all of these groups will still need help. But the way in which you provide assistance needs to be tweaked. No group Christmas dinner at the homeless shelter? Then volunteer to pick up and deliver food baskets instead. Not allowed to go inside nursing homes or hospitals? Then sing carols outside residents' windows or perform a virtual concert. You might still find folks getting together to wrap gifts for the needy, but everyone will probably be wearing masks while they do it.
Much like nursing homes and hospitals, domestic violence shelters are also likely off-limits to volunteers. But, you can still stuff Christmas stockings for women and kids at home and drop off the stockings at the shelter. In Washington, D.C., Catholic Charities is asking for volunteers to decorate the porches and patios at various shelters or to sew face coverings at home. You can also write notes of encouragement and cheer to people in shelters, hospitals and nursing homes, or drop some off for stranded military personnel. Just go to your favorite charity's website and look for a section on COVID-19 or volunteering to see what opportunities are available.
Remember, too, that lots of organizations and churches offer programs that enable you to adopt a low-income family for the holidays by providing them with Christmas dinner and gifts. These meals and gifts can be delivered safely, even during a pandemic.
And though just sending money might not seem as meaningful as volunteering, most charities will really appreciate a donation during the holidays.
No matter which volunteering option you choose, you'll end up helping not only others, but yourself. Read on to find out how.