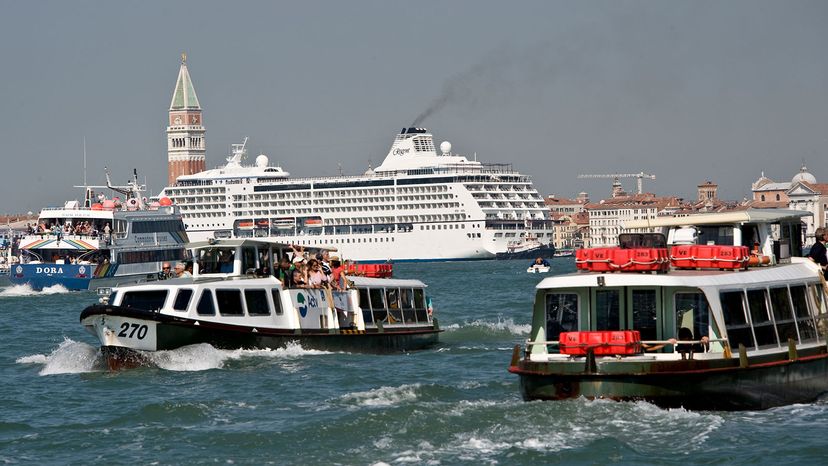 It seems an unlikely move, especially after an economically devastating pandemic. But port cities around the globe are snatching back their welcome mats, saying overtourism from cruise ships is more harmful than beneficial to their towns. And many citizens and small businesses agree.
Residents of Key West, Florida, voted in November 2020 to ban the largest cruise ships from their port, plus limit the number of passengers who can disembark daily to 1,500, a number less than half that of early 2020. Many say the throngs of cruise ship tourists are causing low-brow souvenir shops to proliferate in the city's historic downtown, while the massive ships wreak havoc offshore on fragile coral reefs and game fish. In the year that cruise ships have been grounded because of the COVID-19 pandemic, locals say the offshore waters have been cleaner, according to The Washington Post. And some small business owners say they aren't benefiting from the ships, either, as passengers typically aren't lingering long enough to patronize their restaurants, inns or boutiques.
In the Spanish island of Mallorca, more than 12,000 people signed a petition to similarly limit the number of cruise ships and passengers stopping in its Port of Palma, noting Palma is the second-most polluted port city in Europe, according to Transport & Environment, a sustainable transport group. The petition also says the throngs of passengers that swarm through Palma's streets create a theme park atmosphere that's causing residents to flee.
And over in Venice, the Italian city famed for its canals banned large cruise and container ships from the Venice Lagoon in early 2021, in part because the ships pollute the environment and erode the city's historic foundations. The UNESCO World Heritage Committee applauded the move, which it had been pushing for since 2014.