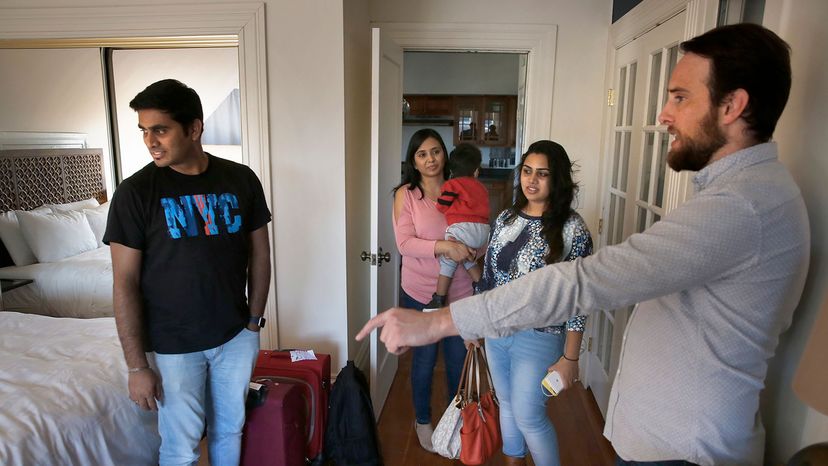 If you've used a travel rental service like VRBO or Airbnb recently, it's possible you were hit with a bit of sticker shock at booking time. The nightly rental fee is but one part of the equation, with cleaning fees, service fees and occupancy taxes jacking up the bill big-time.
"It's sad to say that by the time we reach checkout, the rate offered by Airbnb has almost doubled once a plethora of fees has been added to the total price, often leaving you feeling catfished by the original nightly rate presented on the homepage," laments Will Hatton, founder/CEO of the Broke Backpacker, in an email.
To give a recent example, Jill Grant (not her real name) rented a cabin in the Smoky Mountains (Tennessee) in June 2021 on VRBO that was advertised at a rate of $425 per night, for four nights. But adding a cleaning fee of $275, a service fee of $234, taxes of $248.63 and mandatory property insurance of $59 made the real total $2,491.63 or $622 per night. "Plus there was a tip envelope left in the cabin by the cleaning staff," she adds in disbelief.
Not that long ago, vacation rentals like those found on VRBO and Airbnb were intended for backpackers, broke college students and people who otherwise needed places cheaper than hotels to crash for a few days or months. Often, this involved little more than a bedroom/bathroom combo or a temporarily unoccupied apartment. Although such rentals are certainly still available, the model has changed tremendously.
"Airbnb fees have not increased in the way most people think. It is guests who have changed the way they use Airbnb: They started out renting a private room on the platform and are now opting for larger, and more expensive, entire vacation rentals," says vacation rental industry expert Thibault Masson with RentalScaleUp.com in an email. "Consequently, fees are higher in absolute terms, but not really as a percentage."