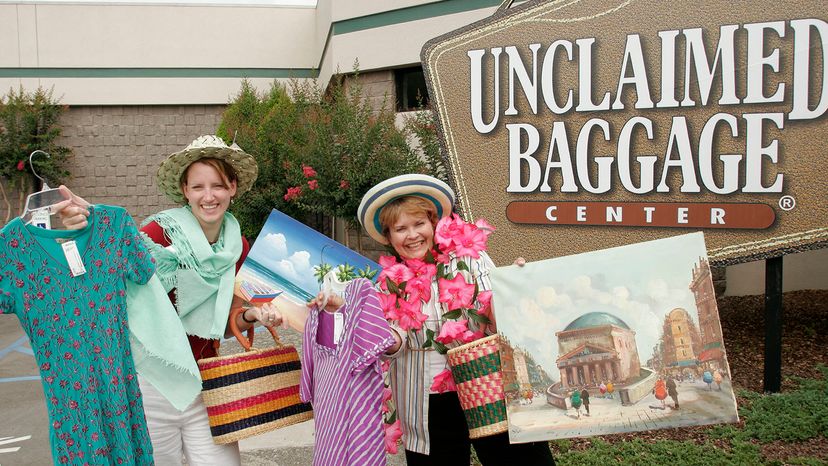 A pair of women proudly display their "finds" from the Unclaimed Baggage Center, in Scottsboro, Alabama, a huge warehouse for stuff that passengers have lost while flying.
Jeff Greenberg/UIG via Getty Images
Maybe you've lost a pair of sunglasses. Maybe you've found someone else's earring. Maybe those items turn up in a lost-and-found area somewhere — a hotel, an amusement park, a school. That's great and all, but it's likely that your experience pales in comparison to these cool, unique and weird artifacts that have turned up in lost-and-founds around the world.
1. An Actual Human Skull
The Bureau of Found Objects in the southern end of Paris is a massive repository of the city's lost items. The centralized collection was formed in the 1800s during the time of Napoleon and now receives up to 700 items a day that have been found on the metro, in restaurants, museums, airports, streets and other locations. Although some of the items eventually are claimed, many are not, including a real human skull that was found in a Paris train station near the catacombs. The city's catacombs include 200 miles (322 kilometers) of tunnels that have walls neatly lined with about 7 million human skeletons, some dating back more than 1,200 years. Although no one at the bureau quite knows how the skull was removed, chances are some "body" is missing it.
2. A Wedding Dress With Matching Shoes
Deep within Paris' Bureau of Found Objects, a museum of the strange — musée de l'insolite— has been set up with some of Paris' most fascinating lost items. There's a hoverboard, a human-sized replica of a Paris street lamp, a plaster Jesus Christ statue, military medals and even a saber from the late 1890s. One set of objects, however, prompts a string of questions about the circumstances that would lead to its residence in a hotel for abandoned things: a wedding dress and matching shoes, all of which are new, clean and in a garment bag as if it were the day they were to be worn. Although the bridal set's origins are a mystery, bureau employees point to a well-worn story that it was left in the back of a cab after a lovers' quarrel — and never sought again.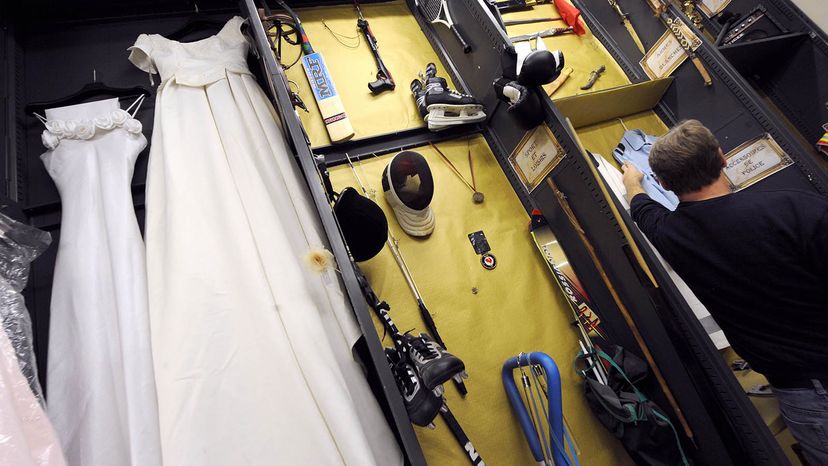 Wedding dresses hang out at Paris' Bureau of Found Objects. Will they ever tie the knot?
LIONEL BONAVENTURE/AFP/Getty Images
3. Pieces of the World Trade Center
One of the most poignant items at the Bureau of Found Objects has yet to be claimed and originates, not from France, but from the United States. It is a red pouch holding three concrete pieces from the World Trade Center that was discovered in an abandoned suitcase in Paris shortly after the terrorist attacks of Sept.11, 2001. The suitcase also contained the bright-orange vest of a New York City transit employee.
4. A Missile Guidance System
Sure, the Unclaimed Baggage Center in Scottsboro, Alabama, has plenty of what you might expect: flash drives, socks, umbrellas and the occasional Scottish kilt. But over the last 40 years of unpacking suitcases lost during air travel, the center's employees have come across some national treasures, too. A camera from a space shuttle was recovered, identified and promptly sent back to NASA. The missile guidance system for a fighter jet was the real jaw-dropper, though. The functional system was outfitted with a plaque that read, "Handle with extreme caution. I am worth my weight in gold." After taking a few minutes to collect themselves, Unclaimed Baggage Center employees contacted the Air Force and returned the fighter jet gear.
5. A 5.8-Carat Diamond Ring
The Unclaimed Baggage Center is not your typical lost-and-found. The building covers an entire city block and has become one of Alabama's top tourist attractions, hosting more than a million visitors each year. Among the valuable — and just plain interesting — lost items that have ended up there is a Limoges vase that sold to a customer for $80 but was later valued at $18,000. A painting that originally was marked at $60 was later found to be worth a whopping $25,000. One of the most stunning finds was a 5.8-carat diamond and platinum ring that was packed in a sock and tucked away in an unclaimed suitcase.
6. 50 Vacuum-packed Frogs
After a three-month-long tracing process to find the owners or pay out any claims, the airlines sell any remaining lost baggage to the Unclaimed Baggage Center. Clothes are dry-cleaned or laundered, jewelry is cleaned and appraised, electronics are wiped of their memory caches and tested. Once, sorters at the Unclaimed Baggage Center discovered 50 vacuum-packed frogs packed into someone's luggage. No word on the state of the frogs' existence, or exactly what type of frogs they were, but the find was notable enough to become Unclaimed Baggage Center legend.
7. A Headstone ... Already Engraved
According to the Unclaimed Baggage Center, 99.5 percent of the checked bags transported during domestic airline travel get to where they are going. The remaining 0.5 percent? Most of the items are given a second life, but at least one item clearly already had one; an engraved headstone was recovered from someone's unclaimed luggage. Eventually, a visitor to the Unclaimed Baggage Center bought it and turned it into a coffee table.
8. A Prosthetic Leg
From umbrellas to novels, more than 300,000 objects are forgotten in London's trains and buses each year. In the Transport for London lost property division, a child-sized stuffed Spider-Man perches atop an exposed air duct, and a tribal mask is propped beside the head of a taxidermy warthog. And in one of the division's relatively rare happy endings, an urn of ashes that resided on a shelf for nearly seven years was finally returned to its rightful owner. However, one of the most shocking lost items was surely missed immediately — but oddly, never claimed. A prosthetic leg, with an athletic shoe attached, still awaits its owner.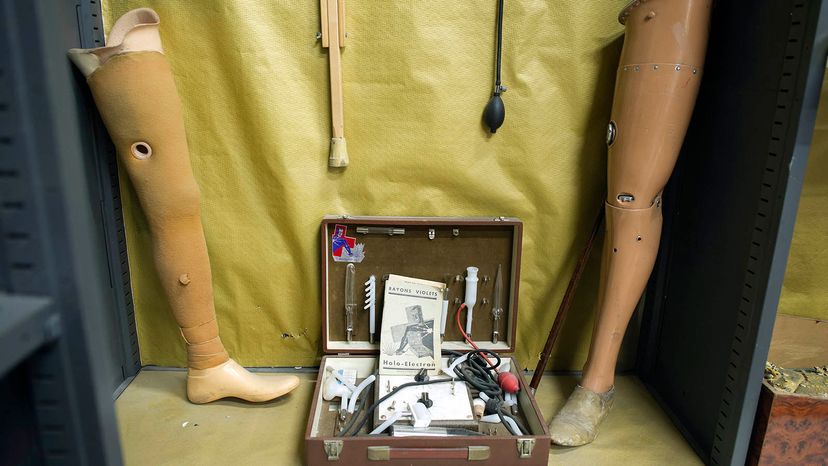 Medical equipment waits for its owner to claim it at the Lost and Found center (Objets trouvés) in Paris, one of the biggest such sites in the world.
LIONEL BONAVENTURE/AFP/Getty Images
9. A Live Lobster
Some of the strangest lost-and-found objects are those left by riders in Uber cars. The ride-sharing company has created its Lost and Found Index, a comprehensive list of interesting items riders leave behind when they exit a vehicle. While many of the lost items are mundane (phones, sunglasses and keys), others leave us begging for the whole story. One rider left behind a life-size cutout of the Will Ferrell character from the Christmas movie "Elf." Another forgot an entire paycheck, while an equally forgetful passenger misplaced their live lobster in the back of a car. Regardless of whether it's a Valium prescription, a hat made out of wood or a bulletproof vest — what's the story there? — Uber reports passengers are most likely to leave behind items on a Saturday night.