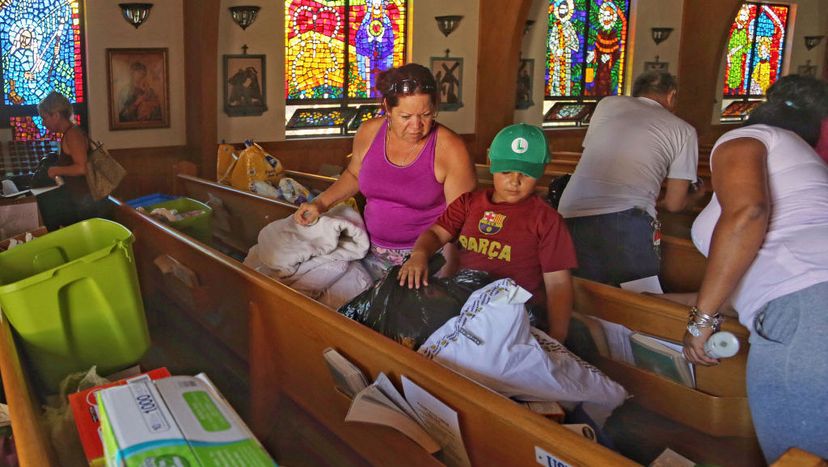 Dulce Carvajal (left) and Dairon Esposito (center), 9, both neighbors, along with other Marathon residents search through donated items at San Pablo Catholic Church on Marathon Key, Florida, after Hurricane Irma.
Carl Juste/Miami Herald/TNS via Getty Images
We humans have big hearts. When we see someone suffering, even if it's a stranger on the other side of the globe, we want to help. But in the rush to help others, we can end up doing more harm than good. If you really want to help the victims of devastating hurricanes, earthquakes, famines and floods, follow these five tips.
1: Send Money, Not Stuff
Charitable organizations receive so many boxes of used clothing, shoes, canned food and flashlights that it overwhelms local staff and creates what some relief workers call the "disaster after the disaster."
As the Center for International Disaster Information explains, unsolicited donations clog up the supply chain, take up space that could be used for lifesaving supplies and are often inappropriate to local needs and customs (sending cans of Spam to a Muslim community, for example). Not to mention the expense of transporting these goods.
That's why almost all disaster relief charities ask for cash donations. With money, they can buy exactly what victims need, often from local sources. Buying locally or regionally keeps money in the storm-rattled local economy and cuts down on the logistics and costs of shipping.
In rare cases, a charitable organization will ask for specific supplies to meet an urgent need. (The Texas Diaper Bank, for example, is accepting donations of diapers and hygiene kits.) Local donations are always the best option, but if you really want to ship supplies, talk to the charity first. Make sure that you're sending exactly what they need and that someone on staff is prepared to receive it.
2: Give to Local Organizations
It's easy to text $10 to the American Red Cross or the United Way, but national or international organizations aren't automatically the best-equipped to help local populations. In some cases, local groups with deep roots in the affected community have a better understanding of how to meet the immediate and long-term needs of their people.
The trick is finding the right organization to support. You want your money to make the biggest impact, and you certainly don't want to get scammed. Charity Navigator rates charitable organizations by their trustworthiness and transparency, and has a Hot Topics page that list charities related to immediate crises and disasters. CharityWatch, run by the American Institute of Philanthropy, has similar information.
3: Volunteer Here, Not There
Trained and skilled volunteers are critical in a time of crisis. They staff emergency shelters, distribute food and water, and even search for stranded survivors. But untrained, unskilled volunteers can actually be a liability after a disaster, especially if they're traveling from overseas.
Julie Hoare is head of partnerships and resource development for the Americas region of the International Federation of Red Cross and Red Crescent Societies. While she understands that people are driven to help by a deep sense of compassion, she says that relief organizations like hers have systems in place for training and deploying skilled volunteers from the affected region.
Instead of hopping on a plane and flying into a disaster area halfway across the country or around the world, "We'd encourage people to become volunteers with their local Red Cross society," says Hoare. Go the Red Cross' Disaster Volunteer site to learn how to get trained.
As a local volunteer, you'll receive training, your skills will be assessed, and your information will be added to a database. If a disaster strikes closer to home, you'll be called to action and ready to serve.
One vital volunteer activity that doesn't require special disaster relief training is organizing a local fundraising event and sending the money to charities working in the affected area. Or search for virtual volunteer opportunities that you can do from home.
4: Think Long-term
According to a 2016 report from the Center for Disaster Philanthropy (CDP), 73 percent of disaster-related donations in 2013 -- from large charitable foundations, corporations, government agencies and online giving -- was spent on immediate disaster response and relief. That's because the intense media coverage surrounding disasters like hurricanes spurs people and foundations to give. But once the TV cameras leave town, donations dry up.
CDP president and CEO Bob Ottenhoff says that after about a week of "overwhelming generosity," very little private money is invested in the longer-term recovery of a storm-battered region.
"Once the storm ends, the work begins," says Ottenhoff, citing the number of homes, business, cars and jobs lost in Houston alone during Hurricane Harvey in 2017. "We're not asking people not to fund the immediate relief, but to think about the long-term recovery in their giving habits."
Ottenhoff says a FEMA official from Texas told him that disaster recovery works in multiples of 10. For every day of immediate relief, there are 10 days required of mid-term rebuilding and 100 days of long-term recovery. So, if it took 10 days to provide immediate relief to the victims of Hurricane Harvey, the long-term recovery -- for families, businesses and Houston's infrastructure -- could go on for many years.
The CDP collects charitable donations immediately after a disaster, but waits to invest the funds until it's clear what needs aren't being met by other nonprofits, government agencies and insurance companies. That could be months after the initial disaster. Responding to Hurricane Haiyan in the Philippines in 2013, the CDP learned that 60,000 women were due to give birth without functioning hospitals, so the organization invested all of its money in maternal health services.
Individuals can take the same approach. Give to help with the immediate crisis, but then wait a few months and give again to support organizations that are doing ongoing work in housing, mental health counseling, employment assistance and other long-term services.
5: Keep Charities Accountable
Even the American Red Cross (ARC) has had its struggles. Although it raised nearly a half-billion dollars following the 2010 earthquake in Haiti, an investigation by ProPublica and NPR revealed that the organization's efforts in Haiti were largely a failure. For its part, the ARC defends its work in Haiti, which helped fund 100 projects run by other nonprofits and NGOs.
That doesn't mean you should avoid donating to the ARC. The point is that just because an organization has a national profile doesn't excuse them from being accountable. ProPublica encourages donors to follow up with organizations and ask for detailed information about how their money was spent and how many people were helped. You can also write to your congressional representatives and ask them to enact laws that require charities to disclose their spending in greater detail.
Originally Published: Sep 18, 2017