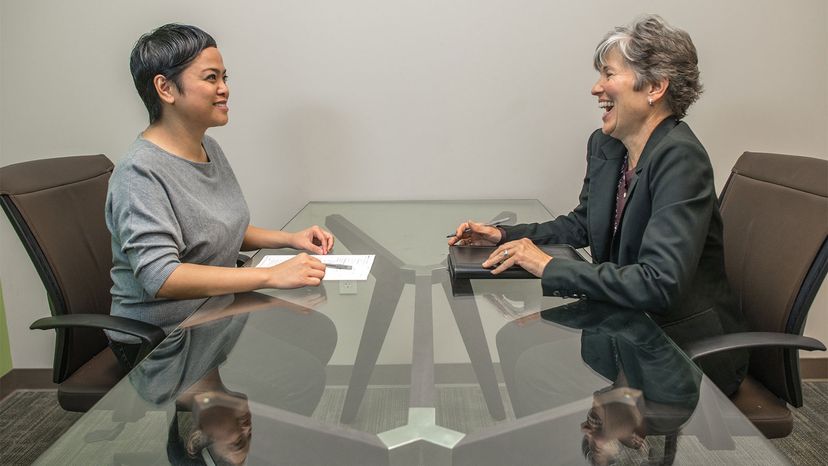 The results of a stay interview should give an employer knowledge about what an organization can improve upon and how it can retain its valued employees.
Amtec Photos/Flickr (CC BY-SA 2.0)
In April 2021, a record 3.8 million Americans quit their jobs. That was the highest "quit rate" ever recorded by the Bureau of Labor Statistics since it started tracking "voluntary quits" in December 2000.
All of that employee turnover costs U.S. businesses a lot of money — $1 trillion, according to Gallup Workplace. The Society for Human Resource Management says that the total cost of replacing a single lost worker equals a third of the quitter's annual salary. So, if a worker making $100,000 a year quits, it will cost the company an average of $33,000 in reduced productivity, lost knowledge, recruiting, hiring temp workers and more.
Why are so many people saying "take this job and shove it"? For starters, the U.S. economy is experiencing one of the tightest labor markets in decades, and recruiters are offering higher pay and benefits to poach top talent from competitors. But does that explain why the quit rate has been steadily climbing across all industries for the past decade?
Dick Finnegan thinks there's a deeper problem that's driving employee turnover. Finnegan is the CEO of C-Suite Analytics, a consulting and coaching firm that helps employers improve worker retention and engagement. Finnegan works with large, Fortune 500 companies and small nonprofits and sees the same issues across the board.
"The number of employee quits has never been higher," says Finnegan. "When companies eventually find and hire new workers, the turnover is really high in the first 60 days. So they're in a 'doom loop' where they keep bringing people in and losing people, bringing people in and losing people."
While some of these workers are leaving for higher pay and better benefits, Finnegan says that the biggest reason why people quit isn't monetary.
"The number one reason employees stay or leave, or engage or disengage, is how much they trust their boss," says Finnegan. "The good news is that it doesn't cost you any money to fix this problem, but it does require you to choose and develop your supervisors in ways that can build that trust."
Instead of an Exit Interview, Try a 'Stay Interview'
An exit interview is basically the opposite of a job interview. Instead of convincing an employer to hire you, you're explaining why you've decided to leave. Exit interviews are usually conducted by a member of the human resources (HR) department on an employee's last day at the office. Think of it as an autopsy of why things didn't work out.
The logic behind exit interviews is that they are supposed to provide useful data to HR and management about employee satisfaction and how to improve worker morale and engagement. But the problem is that even if management takes action to remedy those issues — and that's a big "if" — it comes at the cost of losing a worker, maybe a highly valuable worker.
Wouldn't it be better to address key issues affecting employee engagement and job satisfaction before that valuable employee calls it quits? That's why people like Finnegan have become evangelists for a new kind of retention strategy centered around bosses actually listening to employees and building their trust. It's called a stay interview.
"A stay interview is a one-on-one meeting between a leader and an employee to learn what that leader has to do to retain and engage that employee," says Finnegan, author of "The Power of Stay Interviews for Engagement and Retention."
A stay interview isn't the same as an annual performance review. The point isn't for the boss to tell a worker how they can improve, but to ask the worker what they love and hate about their job, and more importantly, what the boss can do about it.
Unlike exit interviews, stay interviews are not conducted by HR, but by a worker's direct supervisor. They should happen at least once a year and even more frequently for new hires, says Finnegan. And they're not just for the lowest rungs on the organizational chart, but for everybody in the company who has a boss, including top executives.
After all, the highest-paid employees are the most costly to replace in both lost knowledge and finding a suitable hire. One study calculated that the cost of replacing a top executive equalled 213 percent of the lost exec's salary.
Questions to Ask in a Stay Interview
When done right, a stay interview should be an open, honest conversation in which the worker feels safe airing their hopes and frustrations. But fostering that type of trusting employer-employee relationship takes practice and management training.
"We find that a high percentage of workers are willing to be open, but only after their leader has been trained to ask the right questions, to listen to answers, to probe to learn more, and to take detailed notes," says Finnegan. "When we train leaders, we say, 'It's not about you; it's about them. The more you listen, probe to learn more and write things down, the more they're going to tell you.'"
A stay interview should only take 20 to 30 minutes, so it's important to ask questions that can yield a broad spectrum of responses, says Finnegan, from the day-to-day operational issues ("The copy machine jams all the time") to bigger-picture matters ("I wish I could work from home two days a week").
Here's Finnegan's list of the five key questions to ask during a stay interview:
What do you look forward to each day when you commute to work? This question focuses on the here and now, the daily activities and relationships that the employee values.
What are you learning here, and what do you want to learn? This question tees off a conversation about career goals, skill development and training.
Why do you stay here? This is something that many workers haven't thought about before, but it's a chance to think deeply about what they value about the job and the workplace.
When was the last time you thought about leaving us, and what prompted it? This one requires some real trust and honesty. The direct wording of the question is designed to open up a frank conversation about where the company and the boss are falling short.
What can I do to make your job better for you? Again, a manager who asks this question must be prepared to listen without getting defensive and willing to take steps to do better for that worker.
Time Well Spent, if You Are Willing to Make Changes
For a supervisor who manages a large pool of workers, conducting regular stay interviews is a serious time commitment, but Finnegan argues that it's the most important thing a manager can do. If a manager's calendar is already loaded with too many meetings, that's something to bring up at their own stay interview. Which meetings can be dropped to make more time to conduct stay interviews?
Taking time to cultivate trusting relationships and open communication between bosses and workers delivers results. Finnegan says that his clients are consistently able to reduce turnover by 30 percent or more when following his process.
But part of that process is actually addressing the concerns that workers bring up in their stay interviews! If a manager is unwilling to be flexible and to cater to individual needs, then stay interviews won't be effective. Luckily, says Finnegan, many of the issues brought up during stay interviews are easily solvable.
"These are the things that people complain about over dinner: Why doesn't this machine work better? Why do we do all of these reports for no good reason?" says Finnegan. "It's those day-to-day things that are easy enough to solve."
But if an employee reveals that their work-life balance is all out of whack, and that they come home each day exhausted only to put in a few more hours at the computer every night, that's a harder fix.
"You can't solve that in one meeting," says Finnegan. "But if you probe and probe to learn more, you can schedule a second meeting and you can make it better."