As parents, one of our biggest jobs, along with nurturing and protecting our children, is to help them become adults. But the exact steps you take to become a grown-up are hard to define. Mostly, it's about holding yourself accountable for actions and learning to make decisions responsibly. Sometimes, it's about challenging authority -- or assuming it. It's about love and heartbreak, betrayal and forgiveness -- or accepting that forgiveness isn't an option. It can mean mustering the courage and confidence to break away from the familiar and comfortable, and venture into the greater world down uncertain paths. Occasionally, being grown-up means admitting that you're not ready to be.
It's a tough, long road to become an adult. It requires guidance, advice and conversation. Fortunately, there are movies that compress the road to adulthood -- or critical portions of it -- into a family-friendly story that gives parents, tweens and teens an opening to discuss certain aspects of leaving childhood and growing into adulthood. Here are 10 of them.
10
Say Anything (PG-13, 1989)
Although 19-year-old Lloyd Dobler (John Cusack) is the main character of this film, the two story lines emanate from his love interest, Diane Court (Ione Skye). Their romance begins just after high school graduation. The relationship nourishes both of them, but Diane's doting father (John Mahoney) thinks directionless Lloyd isn't good enough for his high-achieving daughter. He's jealous of the time she spends with Lloyd, fearing Diane will give up her fellowship to stay near him. Bowing to pressure from her dad, Diane breaks up with Lloyd. As Lloyd endures his heartbreak, Diane learns that her father isn't the hero she thought. The story incorporates love and heartbreak, betrayal and the difficulty of forgiveness, and the emotional and physical separation between child and parent that's a necessary precursor to becoming a grown-up.
9
The Man from Snowy River (PG, 1982)
When Jim Craig's (Tom Burlinson) father is killed, the neighboring men drive the 18-year-old boy off his homestead in the mountains of Australia, telling him he has to earn the right to live up there. Jim heads to the "flats" to earn the money and respect he needs to return home. He lands a job working for Harrison (Kirk Douglas), a rich cattle rancher with spirited teenage daughter, Jessica (Sigrid Thornton), and twin brother, "Spur" (also played by Kirk Douglas), a mountain miner who is Jim's friend. The story is rich with subplots, love, rivalry, old secrets, accusations and distrust. In order to achieve adult status, Jim must prove his worth and integrity beyond what's expected of the men who try to keep him down. Jessica also has to slip free of her suspicious, controlling father to pursue the life that she wants.
8
A Walk to Remember (PG, 2002)
Life doesn't always turn out as we plan. Bad boy Landon Carter's (Shane West) detention throws him into frequent contact with choir-girl Jamie Sullivan (Mandy Moore). She may seem sweet and reticent, but Jamie is a strong, confident, admirable character who holds her own with Landon. On Jamie's list of things to do in her life, number 42 is to befriend someone she doesn't like. Landon fills that bill. She agrees to help him with the high school senior play, but on one condition: He has to promise not to fall in love with her. Landon thinks it's a joke, but Jamie's dead serious. As she continues to challenge Landon's stereotyped view of the world, however, love blooms. Landon shifts from self-centered to sweet as he helps Jamie accomplish some of the things on her life list. He even writes one of his own. This funny, sweet and surprising movie is based on a Nicholas Sparks story, so bring the big box of tissues.
In this classic western, 10 schoolboys agree to work a cattle drive because all the men have run off to the gold fields, leaving Will Anderson (John Wayne) with a herd of cattle to drive to market and no hands to help him. Along the trail, the boys learn the meaning of work, how to care for themselves and each other, and just a little bit about women through the poetic advice of Mr. Nightlinger (Roscoe Lee Brown), the trail cook, surgeon and philosopher. They also come up against a big bully, Longhair, played so convincingly by Bruce Dern that it changed the course of his film career. When Longhair's gang of cattle rustlers tries to steal the herd, the boys must fight back. After the brief but violent scene concludes, the boys bury the dead and face the difficult decision of whether to abandon the herd and go home to their mothers, or press on across dangerous territory and bring the cattle to market.
6
Freaky Friday (G, 1976; PG, 2003)
With this movie, you can choose from two versions -- the original 1976 with Jody Foster and Barbara Harris, or the 2003 remake with Lindsey Lohan and Jamie Lee Curtis. The basic plot is that mother and 15-year-old daughter switch bodies. The point is that each badly needs to understand the challenges of the other's life -- so the daughter spends a Friday as a working mom, and the mother has to endure a day back in high school. The 2003 version provides parents with a glimpse into the chaotic, stressful lives that today's teens face.
5
The Great Santini (PG, 1979)
Bull Meechum (Robert Duvall) is a great Marine pilot and a lousy father. A warrior between wars, Bull treats his four children like Marine recruits. When things are going Bull's way, life is good. When they're not, he's a cheater, liar, bully and sore loser. As his oldest son, Ben (Michael O'Keefe), approaches his 18th birthday, Bull feels his advantage slipping. His abusive behavior escalates. Despite this, Ben craves his father's approval, and 15-year-old Mary Anne (Lisa Jane Persky) humorously seeks his attention. Ben alternates between loving his father and wishing him dead. But Ben has never defied Bull, even when following Bull's orders harmed him. Only when his friend Toomer (Stan Shaw) is in danger does Ben stand up to his father. Then it's love and war on the home front.
4
A Far Off Place (PG, 1993)
Disney collapses Laurens Van der Post's two excellent novels of Africa, "A Story Like the Wind" and "A Far Off Place," into this 1993 movie starring Reese Witherspoon. When poachers invade the Wildlife Commissioner's home and slaughter him and his household, only his daughter, 15-year old Nonnie (Witherspoon), and a visiting New York prep-school boy named Harry Winslow (Ethan Randall) escape. With killers on their trail and more than 1,200 miles (1,931 kilometers) of desert separating them from sanctuary, the feuding teens must work together to survive. Harry's humor and Nonnie's stubbornness help keep them going, but it's Nonnie's friend, Xhabbo (Sarel Bok), a young bushman, who teaches them the skills they need to survive, guiding them on their long journey. The opening scenes are violent, but they succinctly illustrate the wanton destruction poachers engage in and set the stage for the conflict.
In many coming-of-age stories, the writer gets rid of the parents to force the kid to grow up. But in real life, children must break away from the parental hold. That's what geeky science girl Casey Carlyle (Michelle Trachtenberg) and competitive ice skater Gen Harwood (Hayden Panettiere) must do in this Disney adaptation of a Meg Cabot ("The Princess Diaries") novel. Both girls are raised by controlling, single-parent moms who are trying to make up for their youthful mistakes through their daughters. As high school seniors, the rivals-turned-friends stand up to their moms, asserting their wills and turning their efforts toward achieving their own goals. There's no quick resolution to the conflict: It's realistically hard, hurtful and bitter. Feeling betrayed, Casey's mom refuses to talk with her for months. Themes include working hard to achieve goals, building confidence to take your own path, and forgiving those who've hurt you.
2
Where the Red Fern Grows (G, 1974; PG, 2003)
Growing up in the Ozarks of Oklahoma during the Great Depression, 12-year-old Billy Coleman (Stewart Petersen in the 1974 version, Joseph Ashton in the recent remake) wants a hunting dog more than anything. He thinks, breathes and dreams hunting dogs. Following his grandfather's advice, he spends a summer doing every odd job he can find, earning enough money to buy two Redbone Coonhound puppies. After fighting through a gang of townies and facing up to a cougar to get the pups home, Billy spends months training them. The trio gains a reputation during their first hunting season as the best raccoon hunters in the area. Their second season is even more profitable, but it's marred by tragedy. Billy's devoted patience in training the dogs, his perseverance, and his willingness to sacrifice for family spur his maturation over the seasons.
It's "Lord of the Flies" meets "The Shawshank Redemption" in this lively Disney adaptation of Louis Sachar's Newbery Award-winning, time-layered novel. Unjustly accused of stealing shoes, Stanley Yelnats IV (Shia LaBeouf) is sentenced to serve 18 months at Camp Greenlake, a character-building "camp" for juvenile delinquents. The exercises are limited to digging holes in a dry lake bed to satisfy the camp warden's personal agenda. The adults at the camp are harsh, erratic and unreliable, forcing the boys to rely on themselves -- and eventually on each other. Their cooperation fosters respect for each other and more mature attitudes. Stanley befriends "Zero" (Khleo Thomas) a small kid sent to the camp for being homeless. Zero helps Stanley dig holes, and Stanley teaches Zero to read. But their connection is much deeper than either one knows.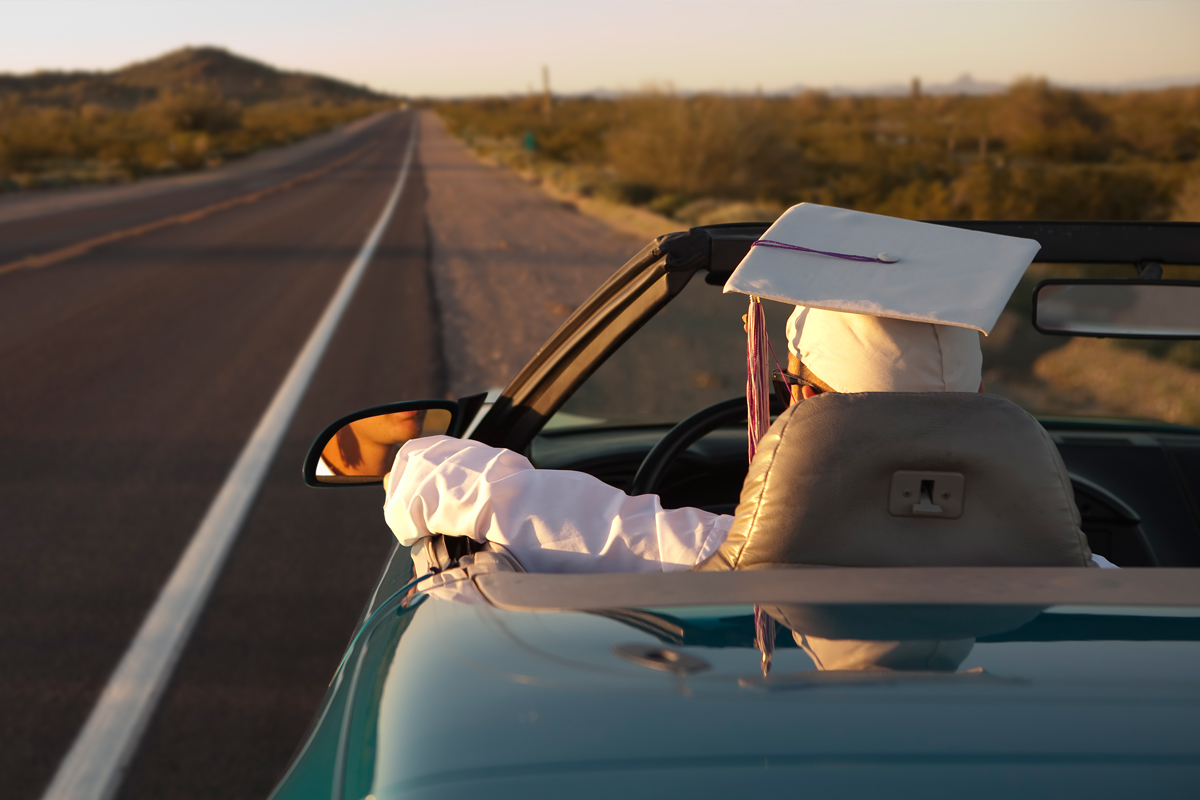 Up Next
Student loans are great for tuition, but are they also good for buying a car? Find out if you can use student loans to buy a used car.
---
Related Articles
Sources
"A Far Off Place." Walt Disney Pictures, 1993.

"A Walk to Remember." Warner Brothers Pictures, 2002.

"The Cowboys." Sanford Productions (III), 1972.

"Freaky Friday." Walt Disney Pictures, 2003.

"The Great Santini." Bing Crosby Productions, 1979.

"Holes." Walt Disney Pictures with Walden Media, a Chicago Pacific Entertainment/Phoenix Pictures Production, 2003.

"Ice Princess." Walt Disney Pictures, 2005.

"The Man from Snowy River." Twentieth Century Fox Film Corporation, 1982.

Motion Picture Association of America. "Film Ratings." Policy and Research. (Feb. 3, 2011)http://www.mpaa.org/ratings

"Say Anything." Twentieth Century Fox, 1989.

"Where the Red Fern Grows." MM Sterling Entertainment, 1974.