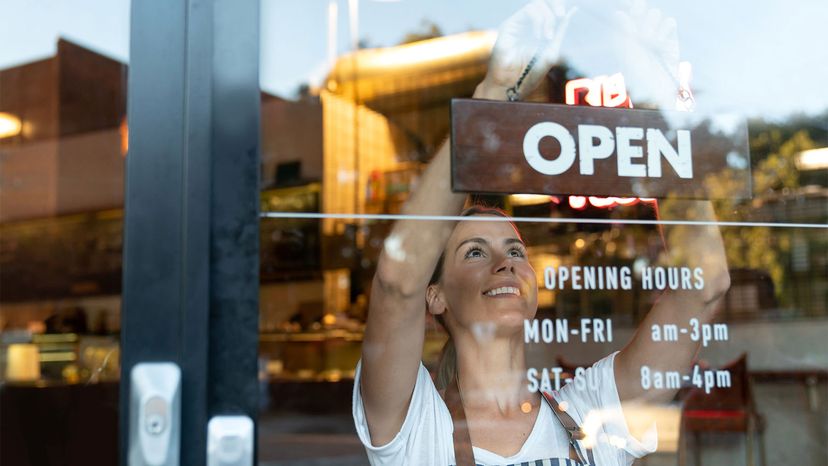 Opening your own restaurant or store is a great accomplishment, but you need to get a business license first.
andresr/Getty Images
In the United States, businesses of all shapes and sizes need to apply for certain permits and licenses to legally do business, everything from a home-based hair salon to a local chain of fast-food restaurants. If you're starting a new business, it's important to know exactly which licenses and permits are required for your specific type of business by local and state officials, and possibly the federal government. Failure to obtain and display active business licenses could result in fines or even being shut down.
A good place to start is with the Small Business Administration (SBA), which provides a list of industries regulated by federal agencies. As you'll see, relatively few industries require federal government oversight, but those that do include aviation, mining and drilling, radio or TV broadcasting, and interstate agriculture. Also on the list is any establishment serving or selling alcohol, like a restaurant, bar, beer/wine wholesaler, etc.
Check With Your State and City
While relatively few industries are regulated by the federal government, almost all types of businesses require permits or licenses issued by the state: restaurants, retail stores, car dealerships, child care centers, construction contractors, dentists, tattoo studios, etc. Some of these permits and licenses are for tax purposes, while others aim to protect the safety and health of customers and the general public.
To learn the exact licensing requirements of your state, go to your state's main government website — find the links here — and search for "business license," or consult this handy state-by-state business license resource assembled by Fundera.
Depending on the size and population of your state, some permits are handled on a state level while others are administered by city or county governments. For example, all restaurant licenses in Iowa are issued by the state, but so many people live in Cook County, Illinois (home to Chicago), that the county has its own Department of Public Health that issues restaurant licenses and conducts periodic inspections.
If the state government can't tell you the specific licensing requirements for your city or county, you'll have to search for "business licenses" on local government websites. Larger cities and counties offer free business consulting services to ensure that your business has all the required licenses and permits it needs.
Getting a Business License Step by Step
Let's say you've decided to open a new restaurant and bar in downtown Des Moines, Iowa (after all, Iowa ranks in the top 10 of best states to start a business!). You and a buddy form a business partnership, find the perfect space and start hiring kitchen staff and servers. But well before you can open the doors to the public, there are a number of business licenses and permits you'll need to secure.
Federal Government
On a federal level, all businesses that serve alcohol have to register with the Alcohol and Tobacco Tax and Trade Bureau (TTB) by filling out this form. Registration only has to happen once, unless the business changes name, location or ownership.
State Government
This is where most of the permits and licenses need to be obtained for a restaurant and bar in Iowa. For the purposes of our example, our restaurant and bar will have both indoor and outdoor seating and it will serve alcohol on Sundays.
City and County Government
If you and your business partner want to operate under a trade name like the "Iowa Beer Company" instead of your given names, you will need to register the trade name with the Polk County Recorders Office.
Small or home-based businesses may be able to secure all of the necessary licenses and permits to legally operate a business, but larger operations should seriously consider hiring a lawyer who specializes in business licensing. The upfront investment is worth it if the penalty for breaking the rules includes steep fines or going out of business.