Preparing a Catering Proposal
The foundation of a proposal is the information gathered during an initial inquiry or meeting with the prospective client:
type of event

date

time

guest count

venue

favorite foods or menu ideas
Armed with these guidelines, the caterer can build a detailed proposal that includes the actual menu, beverages, an itemized listing for equipment rental, the staff requirements and any necessary food or beverage taxes.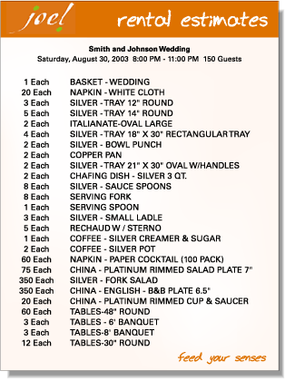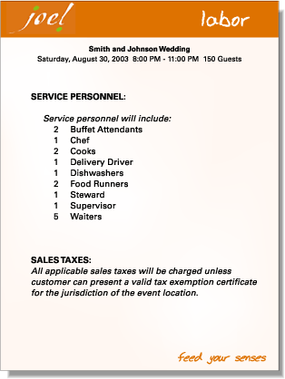 When planning a proposal, caterers generally consider several other factors in addition to the basic information. For example, the staff at Joel know that their social clients usually eat less food (18-22 bites -- think bite-sized candy bar or an orange wedge, an average sized bite of food) than their corporate clients (22-28 bites). The time of day and length of an event can also dictate how much food you need. A party held right after work, during "cocktail hour", say from 5:00 to 7:00 p.m. could center around hors d'oeuvres and other light fare because the guests will probably have plans for dinner after the reception.
Other menu planning considerations include:
Balanced menu - a standard menu should include a balance of two proteins (meat, poultry or seafood), one vegetable and one starch (pasta, rice or potatoes).
Courses - for seated dinners with multiple courses, each course should complement the next and there should be some variety. For example, if you're having a beef entree, then you might consider a seafood appetizer.
Buffets - the number of buffet stations corresponds to the number of guests. According to the folks at Joel, a good rule of thumb is one buffet per 75 guests. If the guest list is large, say 750 or more, you can increase the number of guests per buffet ratio to one buffet per 100 guests.
When the proposal is ready, the caterer gives it to the client for his or her perusal. After the client accepts the proposal, the caterer schedules another meeting to discuss the decor and layout and to plan a detailed timeline of the event.