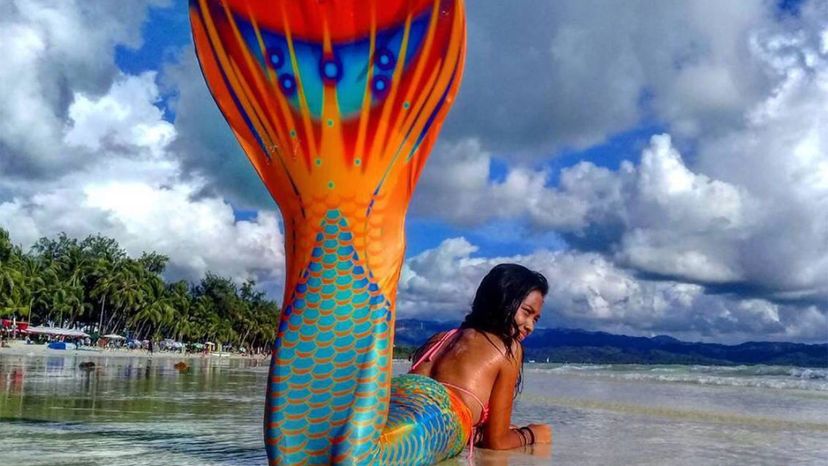 If you're fascinated by mythological creatures, love to swim and know the entire score to "The Little Mermaid," your time has officially come. Mermaiding is an honest-to-goodness thing, and it's poised to explode at a mermaid school or birthday party near you. All you need is a tail (more on that in a minute)!
While it might seem like this is popping up out of nowhere, mermaids (and mermen) have actually been at it for years now. "Mermaiding has been around for 20+ years and I think it will only continue to grow in popularity." says Shelia Kieser, lead mermaid instructor at AquaMermaid in Austin, Texas in an email interview. "We teach ages 7-80 and they all have different reasons for wanting to come and experience being a mermaid or merman."
Amy Gardner recently took her first mermaid class at the Austin AquaMermaid location. She got interested when her daughter went to a mermaid party and the kids' mothers decided to try it as well. "My favorite skill that I learned that day was the dolphin movement, where I only used my hips/core to swim and go back and forth," she recalls via email. "I was baffled not to use my legs — it just seemed like something you would do. Your legs, or now 'mer-legs' just follow behind you in a wave-like motion."
Yes, the typical mermaid school has classes for both adults and children. And AquaMermaid, which currently has 12 locations worldwide, offers some very popular bachelorette parties.
"Mermaids have always been fairly popular but I think it's really popular now because mermaid tails are more accessible now than ever before. I also think it plays nicely into the unicorn trend as well," emails Brianne Bell, manager of the Toronto AquaMermaid location. "There are tons of mermaids on social media and even YouTube so that definitely helps people learn about mermaiding as well."
Kayla Marrama is a mermaid instructor (and professional belly dancer) in the Northern Virginia area. "I personally have loved mermaids since I was young and I have also loved the water," she says via email. "For children, when they have the chance to meet a 'real' mermaid and learn from one, they often are very excited to do so. Adults that are interested [in mermaiding] tend to do so for a few different reasons — to live out a childhood fantasy [or] to do something different and interesting." But, she notes, "It's a lot harder than it sounds!"