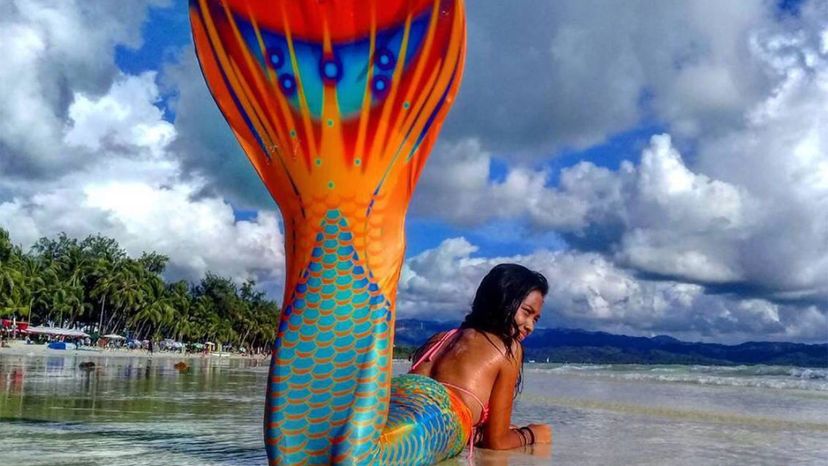 How'd you like to be a professional mermaid?
International Mermaid Swimming Instructors Association
If you're fascinated by mythological creatures, love to swim and know the entire score to "The Little Mermaid," your time has officially come. Mermaiding is an honest-to-goodness thing, and it's poised to explode at a mermaid school or birthday party near you. All you need is a tail (more on that in a minute)!
While it might seem like this is popping up out of nowhere, mermaids (and mermen) have actually been at it for years now. "Mermaiding has been around for 20+ years and I think it will only continue to grow in popularity." says Shelia Kieser, lead mermaid instructor at AquaMermaid in Austin, Texas in an email interview. "We teach ages 7-80 and they all have different reasons for wanting to come and experience being a mermaid or merman."
Amy Gardner recently took her first mermaid class at the Austin AquaMermaid location. She got interested when her daughter went to a mermaid party and the kids' mothers decided to try it as well. "My favorite skill that I learned that day was the dolphin movement, where I only used my hips/core to swim and go back and forth," she recalls via email. "I was baffled not to use my legs — it just seemed like something you would do. Your legs, or now 'mer-legs' just follow behind you in a wave-like motion."
Yes, the typical mermaid school has classes for both adults and children. And AquaMermaid, which currently has 12 locations worldwide, offers some very popular bachelorette parties.
"Mermaids have always been fairly popular but I think it's really popular now because mermaid tails are more accessible now than ever before. I also think it plays nicely into the unicorn trend as well," emails Brianne Bell, manager of the Toronto AquaMermaid location. "There are tons of mermaids on social media and even YouTube so that definitely helps people learn about mermaiding as well."
Kayla Marrama is a mermaid instructor (and professional belly dancer) in the Northern Virginia area. "I personally have loved mermaids since I was young and I have also loved the water," she says via email. "For children, when they have the chance to meet a 'real' mermaid and learn from one, they often are very excited to do so. Adults that are interested [in mermaiding] tend to do so for a few different reasons — to live out a childhood fantasy [or] to do something different and interesting." But, she notes, "It's a lot harder than it sounds!"
Going to Mermaid Class
Indeed, mermaiding is definitely best done by confident swimmers. "We know that swimming in any capacity can be a tough workout. So, one must be a strong swimmer before putting on a tail, as a tail adds a new level of difficulty," Marrama explains. Tails may weigh between 15 and 35 pounds (6.8 and 15.9 kilograms).
Many mermaid schools require participants to be able to pass basic swim tests. "The minimum requirement to join the class is to be at least 7 years old and able to independently swim at least 25 meters [82 feet], tread water for one minute, and float on front and back," says Bell.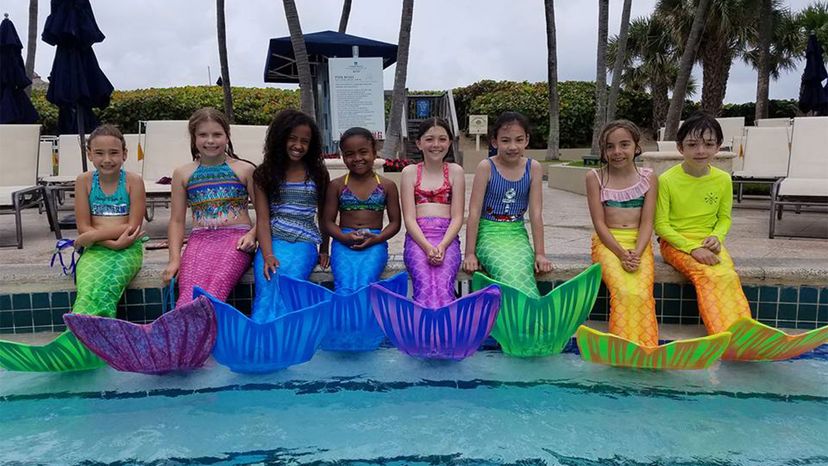 These kids attend a mermaid class at AquaMermaid in South Florida.
AquaMermaid
In class, you'll learn some pretty cool tricks, like how to swim with a tail, the mermaid "high five," and how to do handstands, which soon translate into synchronized mermaid swimming skills. (Some classes also teach kids about caring for the oceans.)
Indeed, mermaid swimming is a killer way to get or stay in shape. Kieser of AquaMermaid Austin reports that a single hour of mermaid swimming can burn up to 600 calories. "It offers a total-body workout from toning your glutes, quads and abs, combined with great cardio exercises working on breath control underwater," emails co-head mermaid Rachael Rodeck with AquaMermaid Chicago.
Mermaiding is also ideal for people as they age. "AquaMermaid is a low impact sport that benefits from the buoyant effect of the water that takes pressure off joints, alleviating pain and discomfort," Rodeck explains.
At your first class, you usually just need to wear a swimsuit. The school will normally supply the monofin and the tailskin. The monofin is a piece of equipment with foot pockets that allows you to propel forward in the water. "Mermaid swimmers start by putting the monofin on both feet and the tailskin is pulled up to the waist," says Rodeck. "Then, the fabric of the tailskin is pulled over the monofin at the end to make a complete mermaid tail."
Oh yes, the tail! If you plan to stick with this, you may want to buy your own. AquaMermaid sells tails in a variety of waist sizes for $105 each. But professional mermaids spend a lot more. "Most realistic mermaid tails range from $500 to $3000," Kieser says.
Mermaid Careers
Wait, you say, you can be a professional mermaid? You bet. Although some people take the classes just for fun and exercise, there's a growing contingent of professional mermaids around the world. Iryna Auchynnikava, co-head mermaid at AquaMermaid Chicago estimates that there are about 1,000 professional mermaids currently working in the U.S.
There's presently no standard certification program that all mer-people must pass, according to Marrama, who is a professional mermaid as well as an instructor. However there are area-specific programs and curriculum. "Also, there are several international mermaid conferences every year which attract 300 mermaid enthusiasts or more," Auchynnikava notes.
So how do you pursue a mer-career? Many pros become mermaid swim instructors, mermaid entertainers (at birthday parties and the like), "mermaid influencers" on social media and even custom mermaid tail makers. There are also mermaid modeling opportunities to be had. "This would be doing swimming or dry land events where you're there mainly for people to look at," Bell says. "You might be swimming in a pool or tank during a corporate event, or posing for a photoshoot, etc." Most professionals do a variety of these occupations.
Much like any career, there's some investment required on the front end to become a professional mer-person. First, a potential pro must have be strong swimmer and have a background teaching swimming or synchronized swimming, if he or she plans to be an instructor. "Early childhood education courses would be useful if you plan on doing kids' birthday parties and working with kids a lot," adds Bell. "Business courses such as marketing also come in handy if you plan on running your own business."
Getting paid to mermaid? Sounds like a real splash!