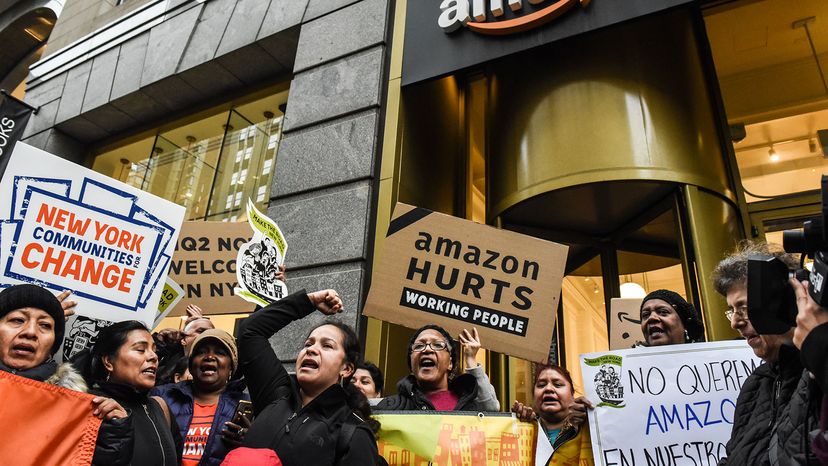 After announcing in November 2018 that it had selected New York City and Arlington, Virginia, as the winners of its year-long, "The Bachelor"-style search for the location of its second headquarters, known as HQ2, Amazon is now reversing course. On Feb. 14, 2019, Amazon announced it was pulling out of New York. "After much thought and deliberation, we've decided not to move forward with our plans to build a headquarters for Amazon in Long Island City, Queens," Jodi Seth, an Amazon spokeswoman, said in a statement. "We do not intend to reopen the HQ2 search at this time. We will proceed as planned in Northern Virginia and Nashville, and we will continue to hire and grow across our 17 corporate offices and tech hubs in the U.S. and Canada."
As part of the deal with New York alone, Amazon was to receive an estimated $2.8 billion in tax breaks and other business incentives. That's the equivalent of New York taxpayers paying Amazon $112,000 for each of the 25,000 jobs the tech giant had promised to create at its Long Island City headquarters. (New York offered twice as much in incentives as Virginia did.) But the deal was met with anger and protest from residents. And it appears to have been enough to sway Amazon to kill its planned HQ2 location there.
The logic of offering up such huge incentives to companies like Amazon is that it's a long-term investment in a city's economic future. In New York Governor Andrew Cuomo's original announcement, he claimed the Amazon H2 would be huge success for the region.
But plenty of commentators questioned the rosy figures pitched by politicians and were alarmed at the growing trend of huge corporations pitting state versus state to subsidize their expansions or relocations. The question was whether the very public and well-publicized Amazon HQ2 auction would signal a shift in the way states and cities think about the economic benefits of such sweetheart development deals, or would it simply embolden the next wealthy corporation to demand even more?