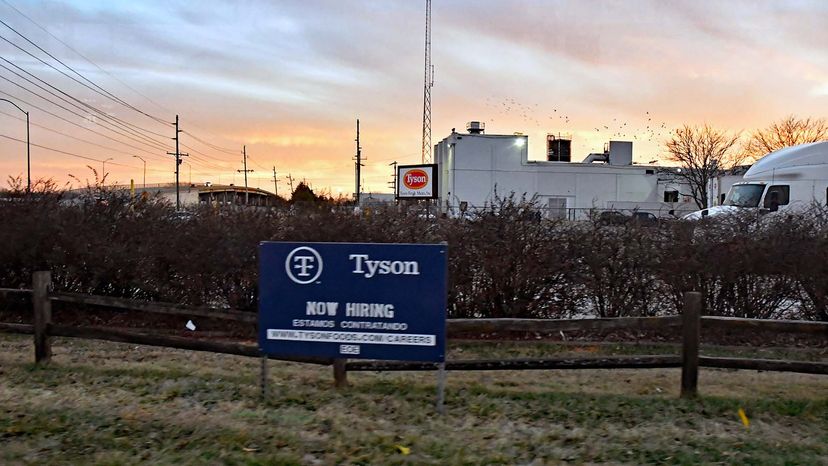 Tyson Foods just joined a long list of major companies mandating COVID-19 vaccines for all of its employees.
Mark Reinstein/Corbis via Getty Images)
It's been 18 months since the coronavirus reached the United States. Vaccines rolled out across the country in December 2020 and are proving to be highly effective at preventing infection and reducing death. Yet to date, less than 50 percent (49.26 percent) of the U.S. population is fully vaccinated.
Meanwhile new cases of COVID-19 are rising in all 50 states, especially in communities where vaccination rates are low. And nearly all COVID-19 deaths in the U.S. are among the unvaccinated, according to an analysis by The Associated Press.
Some experts in the health care industry are now pushing for mandatory COVID-19 vaccinations, especially among health care workers.
The possibility — and legality — of a federal vaccine mandate remains questionable. But on July 29, 2021, President Joe Biden made it clear in a news conference that life was going to get a lot more inconvenient for those who refused to get the COVID-19 shot.
Biden said the federal government would be putting into place broad new measures to quell rising-yet-preventable virus-related deaths by requiring all federal workers prove they are vaccinated against the virus. Those who don't must abide by new rules that include mandatory masking, weekly testing (at least) and social distancing, to name a few. Biden later encouraged local and state governments to sweeten the pot by offering $100 incentives to those who voluntarily get inoculated.
The news was bookended by announcements from several major U.S. corporations and healthcare facilities, including Walmart, Google and Tyson Foods, that have taken matters into their own hands and issued mandates or incentive programs for employees to get vaccinated, or else risk losing their jobs.
So can a company require its employees be vaccinated? What are your options if you still choose not to get the shot? And, if vaccines can curb the rising COVID-19 death rate, why are people resisting them?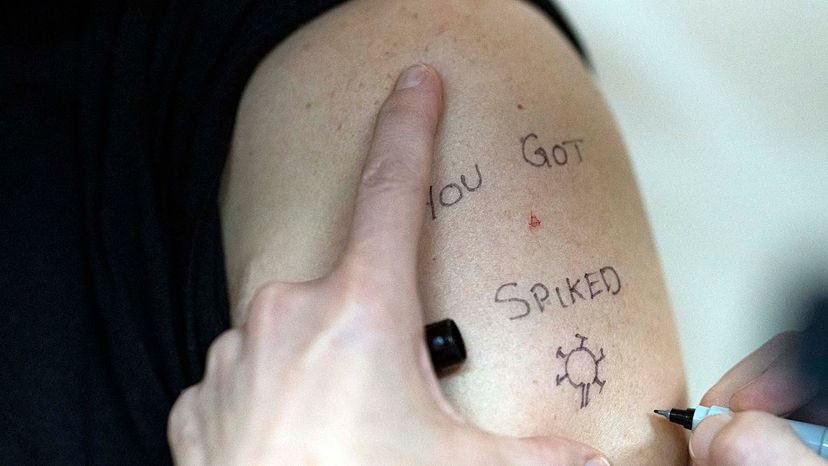 All military and civilian Department of Defense personnel will now be vaccinated against COVID-19. The Pentagon announced it is working on adding the vaccine to the list of required inoculations for service members after President Joe Biden requested it.
Nathan Howard/Getty Images
Can Employers Require Employees to Get a COVID shot?
In a word, yes.
"Employers have an obligation under the Occupational Safety and Health Act to provide a workplace 'free from recognized hazards that are causing or are likely to cause death or serious physical harm' to employees," says Eve Klein, partner and chairperson of the Employment, Labor, Benefits and Immigration Practice Group at Philadelphia-based law firm Duane Morris LLP. "As COVID-19 can cause death or serious injury, one of the best ways employers can stop the spread of the virus and protect employees, as well as clients and others they may service, is to require employees to be vaccinated."
The Occupational Safety and Health Administration (OSHA) hasn't formally encouraged employers to require workers be vaccinated. But on June 10, 2021, the U.S. Department of Labor issued updated COVID-19 guidance that echoed the Centers for Disease Control and Prevention's position that non-health care employers may safely allow vaccinated workers to return to normal in workplace conditions, sans face masks and social distancing. But COVID-19 precautions must remain in place for unvaccinated workers. No vaccine mandates or recommendations were mentioned.
The U.S. Equal Opportunity Employment Commission (EEOC) took a stronger position. On May 28, 2021, the federal agency charged with administering and enforcing civil rights against workplace discrimination issued a statement saying it had updated and expanded its technical assistance related to the COVID-19 pandemic to include COVID-19 vaccine mandates.
The new guidance from EEOC says that employers can legally require employees get a COVID-19 vaccine before they re-enter a physical workplace if they follow requirements to provide alternative arrangements for employees who are either unable to get vaccinated due to medical reasons or have religious objections.
Employers can also offer incentives to employees who voluntarily confirm their vaccination status, though the EEOC said the gifts shouldn't be so great that employees feel pressured to do so.
One of the strongest voices behind vaccine mandates came July 26, 2021, when the U.S. Department of Justice's Office of Legal Counsel (OLC) issued an opinion (dated July 6, 2021) stating that the Emergency Use Authorization (EUA) status of COVID-19 vaccinations does not prevent public and private entities from imposing vaccine requirements.
That's not to say other federal, state, or local laws or regulations could stand in the way of an employer mandating vaccines or adopting any vaccine policy. But the OLC is considered the final word within the federal government when it comes to legal issues and, as such, its opinions carry significant weight with judges.
Why Are People Resisting Vaccine Mandates?
Some opposition about the vaccine mandate is due to the approval status of the currently available vaccines. All three vaccines approved by the U.S. Food and Drug Administration (FDA) — Pfizer-BioNTech, Moderna, Johnson & Johnson's Janssen — were approved under the FDA's Emergency Use Authorization (EUA). This designation enables the agency to accelerate review of medical countermeasures, such as vaccines, and make them available during public health emergencies.
To date, no COVID-19 vaccines have received full FDA approval because to do so requires more time and data. All three vaccine makers have submitted, or are expected to submit, applications for full FDA approval. The FDA's official nod should come in the next several months, according to the journal Science, which is a publication of the American Association for the Advancement of Science.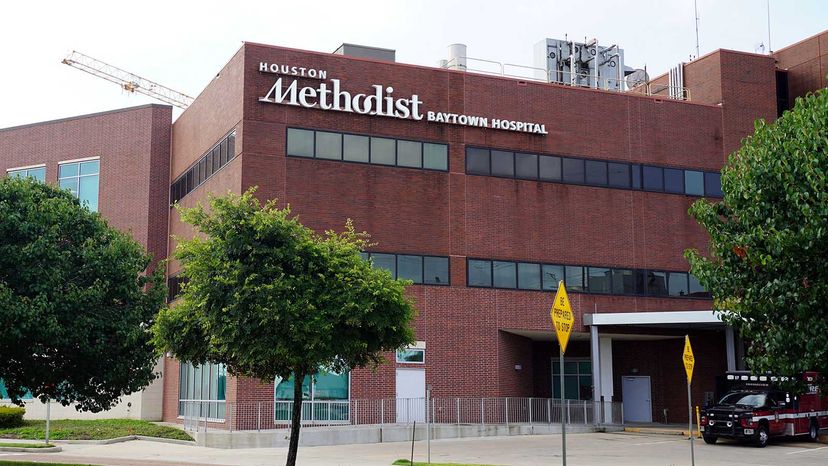 More than 150 employees at the Houston Methodist hospital in Texas were fired or resigned after failing to comply with orders to get a COVID-19 vaccination to continue working there.
FRANCOIS PICARD/AFP via Getty Images
Mandates Have Already Been Legally Challenged
At least one lawsuit filed by employees pushing back against an employer's vaccine mandate has fallen flat.
Houston Methodist hospital in Texas set a June 7, 2021, deadline for all 26,000 employees at its eight hospitals be vaccinated or risk suspension or termination. When the deadline came and went, the hospital system temporarily suspended more than 175 staffers without pay. A group of 117 employees filed a lawsuit against Houston Medical for "illegally requiring its employees be injected with an experimental vaccine as a condition of employment." The lawsuit accused the hospital of "forcing its employees to be human 'guinea pigs' as a condition for continued employment."
But a Texas judge ultimately sided with the hospital and tossed the lawsuit. "Methodist is trying to do their business of saving lives without giving them the COVID-19 virus," U.S. District Judge Lynn Hughes wrote in a five-page decision. "It is a choice made to keep staff, patients and their families safe."
Regarding Jennifer Bridges, a nurse at Houston Methodist and the lead plaintiff in the case who claims she was fired for refusing the vaccine, Judge Hughes wrote, "Bridges can freely choose to accept or refuse a COVID-19 vaccine; however, if she refuses, she will simply need to work somewhere else."
Can Employees Legally Refuse a Vaccine Mandate?
Klein says the only exceptions to employer vaccination mandates employees may rely on, other than working elsewhere, include:
Showing medical proof of a disability or pregnancy that prevents them from being vaccinated

Setting forth evidence of a sincerely held religious belief to the same effect

A collective bargaining agreement applicable to them prohibiting or requiring bargaining with the union regarding vaccine mandates
The list of agencies and corporations to hand down vaccine mandates is growing by the day:
As a way of side-stepping a vaccine mandate, some companies are dangling incentives to employees who demonstrate proof of vaccination such as cash bonuses, paid time off or other rewards.
Walmart offers $75 bonuses to employees.

Amazon gives workers an $80 bonus and new hires $100 bonuses.

Kroger provides a one-time payment of $100 to associates.

Amtrak pays employees an allowance equivalent to two hours of pay, plus excused time off and pay protection for up to 48 hours after vaccination.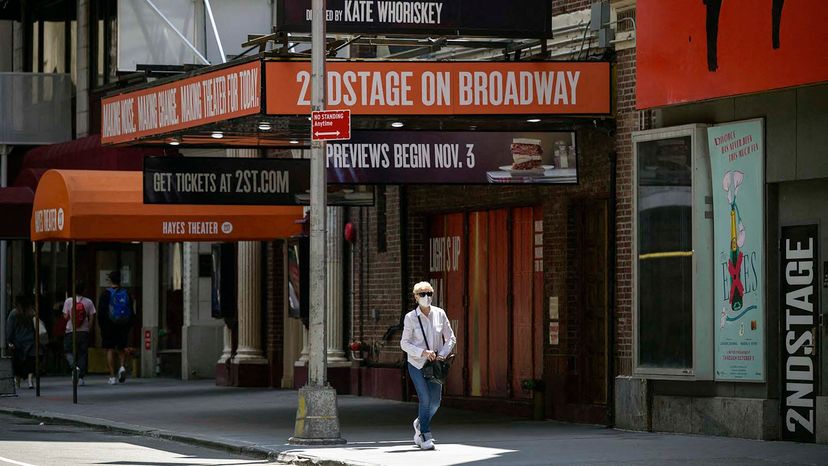 Broadway in New York City will require audiences to be fully vaccinated and wear masks at all shows when theaters reopen in September.
ED JONES/AFP via Getty Images