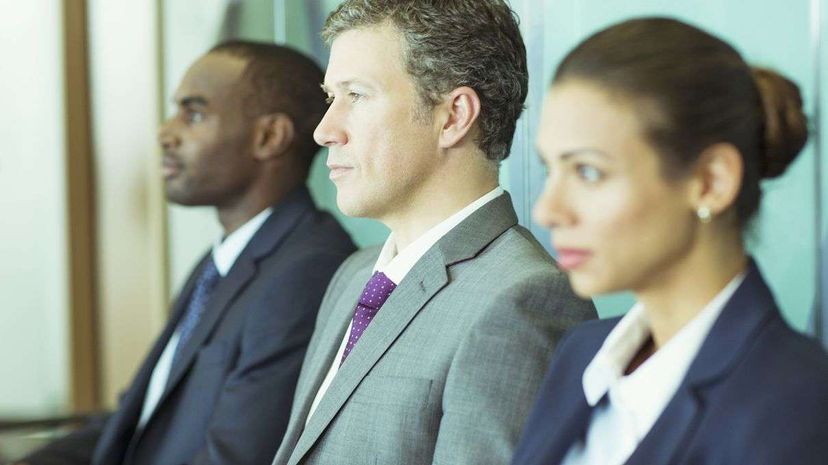 "So, how much did you make at your last job?" That's one of those questions that can make you cringe when you're job-hunting and trying to negotiate a much bigger bump than what you'd earned previously.
It's especially problematic for female and minority workers, who are usually negotiating a salary that's already a few steps behind their white male counterparts. That's because hiring managers set salaries largely based on what a worker was paid in their last job. So if you're paid less for your first job — perhaps due to wage discrimination — you're more likely to be paid less your whole working life.
The wage gap has closed significantly over the past 30 years, but it's still real. According to the U.S. Census Bureau, women continue to earn 79 cents for every dollar a man earns. In its own surveys, the Pew Research Center finds that women earn 83 percent as much as men on average, while black workers of both sexes earn 75 percent of what whites earn.
This month, Massachusetts legislators took aim at the wage gap by passing the nation's first equal pay law that bars companies from asking prospective employees how much they earned in their last job. It even prevents employers from seeking out such information until a salary offer is on the table. (Companies, however, can still ask applicants what salary they are looking to make, and candidates can volunteer their salary history).
Massachusetts is following the lead of several other states, notably California, that have forced business to examine hiring and compensation practices to ensure that equal work merits equal pay. But will stopping employers from asking about past wages be enough to level the pay scales for women and minority workers?
"It will absolutely change the way I do my job," says Rodney Alvarez, vice president of talent management for Celtra, a software company based in Boston. "Not just for me, but for all of my colleagues. It will force us to be a lot more prepared beforehand."
Up until now, Alvarez explains, his company has asked every single job applicant what they made in their previous job, or what they make in their current position.
"That's the easiest way to gauge what people are making now and what's out there in the market," he says. When the Massachusetts law goes into effect in 2018, hiring managers won't be able to rely on self-reported income to set the market rate for software engineers or salespeople. And that might be good for women and minority applicants.
"If someone's starting at a low base salary, maybe because of a bad negotiation or some prejudice, they'll continue to be impacted by that throughout their careers, because we'll always be asking them for their previous salary," says Alvarez. "This new law forces us to go in and do a much more thorough analysis of the market to verify the right amount we'd be paying for that salary."
There are plenty of resources out there for employers and employees. Websites like Payscale and Glassdoor publish user-provided data on wages and salaries across dozens of industries. Alvarez says that his company uses Culpepper, a consulting firm that publishes extensive compensation data based on detailed industry surveys.
The Massachusetts law also requires companies to pay men and women equal pay for comparable work, even if the job titles are different. But it does offer legal protections to companies that voluntary perform self-audits of their pay practices. Basically, an employer can't be sued for wage discrimination if it's performed a "good faith" self-evaluation in the past three years and is actively working to improve wage equality.
Even though the law won't kick in for more than a year, Alvarez's company is already auditing the wages of its 160 employees worldwide. Earlier this year, 28 large global employers, including Amazon and Gap, signed an Equal Pay Pledge with the White House to conduct similar self-audits annually. Pledge signee PriceWaterhouseCoopers recently discovered that women in its British offices made 15.1 percent less than men, and has doubled its efforts to promote women to executive positions.
But will good-faith corporate audits and executive promotions trickle down to the average worker? One of the biggest obstacles to equal pay for female workers continues to be the lack of protections for women who choose to take time off for pregnancy, or to care for a sick family member. One overlooked clause of the Massachusetts law prohibits companies from reducing a worker's seniority due to time spent on parental, family or medical leave. This should help lessen the gap.