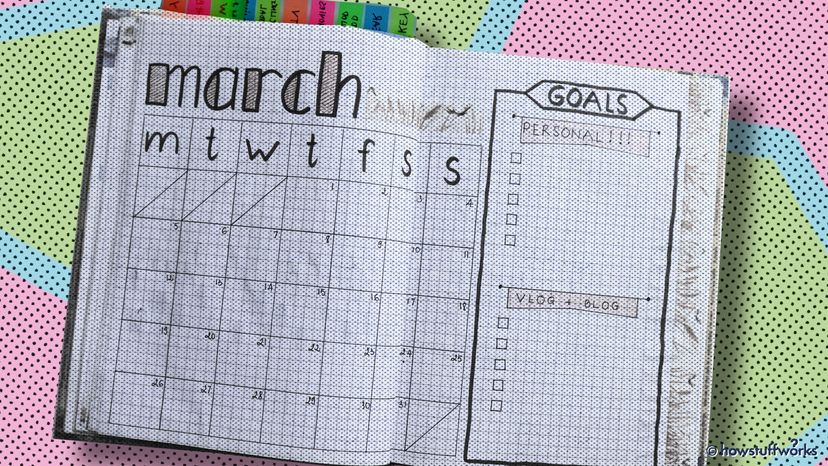 A bullet journal is an analog, paper-and-pen journal in which you organize your life into daily, monthly and "future" logs
iconscout/HowStuffWorks
How many different lists are you carrying around in your head right now? Maybe a list of (long-neglected) New Year's resolutions, a list of upcoming work deadlines and a list of new TV shows that you've really been meaning to watch. And how many other lists are scattered around on sticky notes, dry erase boards and paper calendars in your home and office? Grocery lists, to-do lists, calendar entries for doctor's appointments and dinner parties, a list of crazy/brilliant ideas for a new startup, a novel or maybe an ambitious DIY project?
Is just thinking about all of those lists making you feel overwhelmed, guilty and a little crazy?
Ryder Carroll used to be just like you. A digital product designer who struggled with attention-deficit disorder (ADD) as a kid, Carroll needed a system for not only organizing all of his lists, projects and plans in one place, but a system for organizing his mind. The solution he came up with, called the Bullet Journal Method, has mushroomed into a lifestyle movement.
"The bullet journal method is 'a mindfulness practice disguised as a productivity system,'" says Carroll. "Bullet journaling will help you be more productive by organizing what you have to do, but the real purpose is to be mindful of why you're doing what you're doing. It's not just about taking notes and keeping lists. It's what we do with those lists over time and how we curate them."
Bullet Journaling Basics
The best introduction to bullet journaling is this five-minute tutorial video created by Carroll that breaks down the system into its component parts.
To sum up, a bullet journal is an analog, paper-and-pen journal in which you organize your life into daily, monthly and "future" logs. Every bullet journal is different and completely customizable, but beginners are encouraged to start by creating the following sections in their journals:
Index: This is the very first section of the journal and functions as a continuously updated "table of contents" for the rest of the journal. Every time you add a new "collection" or section to the journal, you include its name and starting page number in the index. The index is like the master organizational list.
Future Log: This big-picture section can cover the whole year or just the next six months. Spread over several pages, the Future Log is where you note big upcoming events like birthdays, weddings and vacations.
Monthly Log: Each month gets its own two-page spread. On one page is a calendar-like list of every day of the month along with bulleted entries for appointments, deadlines, meetings, and any events imported from the Future Log. The second page is a bulleted list of tasks associated with that month.
Daily Log: Every single day gets its own page. This is where you drill down from the monthly log and create a list of everything that needs to get done today, as well as extra things that could be crossed off the monthly to-do list. If something doesn't get done on today's list, it gets moved to tomorrow and so on until it's crossed off. Or maybe you decide it's not worth your time and cross it off anyway.
This quick description makes bullet journaling sound like nothing more than a to-do list on steroids, but there's room in a bullet journal for much more than tasks and calendar reminders.
In "The Bullet Journal Method," Carroll's best-selling book on the "why" of bullet journaling, he explains the important role of reflection. The bullet journal is a place for reflecting on what you really want to do with your limited time and energy, and for jotting down observations and inspirations as you go. This is what Carroll means by "curating" your lists — getting rid of tasks that are meaningless distractions and doubling down on the things that not only make you more productive but make you happy.
To keep all of those different types of entries organized, Carroll's got a system for that, too. He encourages bullet journalers to use a quick notation system that classifies each bulleted entry in a daily, monthly or future log. He suggests the following symbols:
Tasks: ●

Events: O

Notes (ideas and observations): —

Priority: ✫

Inspiration (insights and mantras): !
Carroll says that the bullet journal method isn't a set of instructions for how to organize your life, but a "toolkit" that everyone can customize to fit their priorities and goals. Not everyone is artistic and not everyone wants to keep a food log. And that's fine. Carroll is "inspired and humbled" by the ways in which the bullet journaling community has taken his simple idea and made it their own.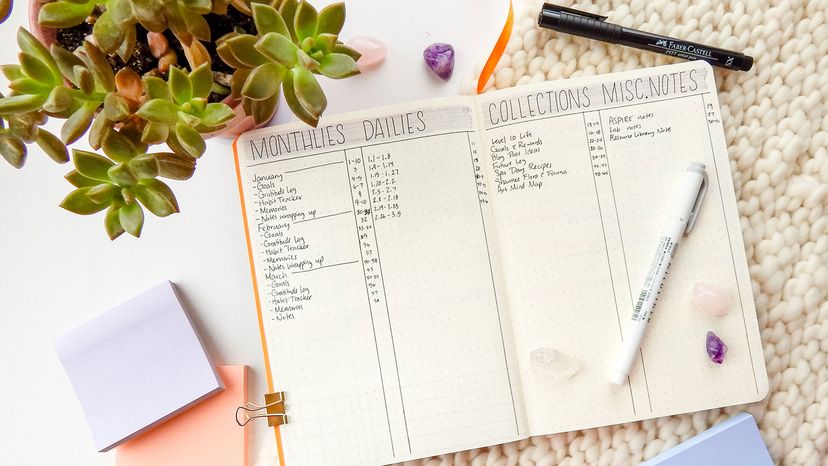 Since every bullet journal is tailored to its owner, you can add "modules" for short- and long-term goals.
Shelby Abrahamsen/Little Coffee Fox
"The whole design of the system is to organize whatever you throw at it, and that flexibility lends itself to so many different use cases," says Carroll, "including ones that I'd never experience or know of: soldiers, single parents trying to raise their kids, people going through illnesses, people getting their doctorates."
What Bullet Journaling Can Do For You
OK, so bullet journaling sounds like a neat way to keep all your lists in one place and update daily tasks to meet longer-term goals. But what else can it do for you?
It's a "mental inbox": Your brain can only handle so many tasks and to-do lists at once. By keeping a bullet journal handy, you can offload thoughts, ideas and tasks as they come. And using Carroll's "rapid logging" method — short phrases in bulleted lists — you get the thoughts out of your crowded mind and onto the page quickly. Not only will it help declutter your mind, but it records the thought or task until you have time to return to it later.
"Bullet journaling gives me a more organized place to write down my thoughts, which helps me feel calmer," says Kim Alvarez, creator of the bullet journaling blog Tiny Ray of Sunshine. "All the thoughts bouncing around in my mind have somewhere to live."
It's a "habit tracker": Since every bullet journal is tailored to its owner, you can add "modules" for short- and long-term goals, and the daily tasks that will help you achieve them. Alvarez, like so many of us, wanted to go running more, so she created a simple habit tracker that has squares to fill in for every day that she went running that month. You could add other categories to the habit tracker like reading for pleasure, studying for a licensure exam, talking with a good friend, whatever is important to you.
"It's a great motivator to see all of my progress in a tangible way," says Alvarez. "You can hold up your notebook and see it as something you've filled up with the memories of your life, and that's pretty special. How often do you get to see that?"
It's a creative outlet: Shelby Abrahamsen tried a ton of different planners with no success until she started doodling around one day in her bullet journal — drawing little banners around the day and date, using different colored pens and fonts to break up her entries. Abrahamsen, who blogs at Little Coffee Fox, had dismissed her artistic talents as impractical, but she found an outlet for them in her planning journal.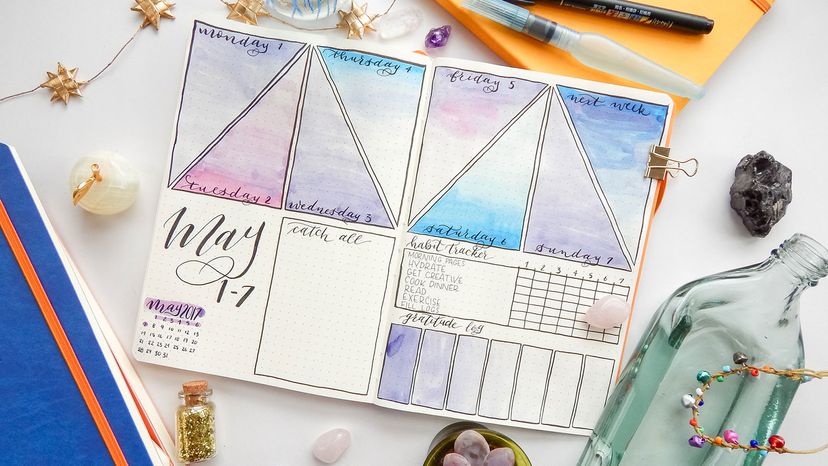 Some people get very creative with their bullet journals, as Shelby Abrahamsen of Little Coffee Fox demonstrates with one of hers.
Shelby Abrahamsen/Little Coffee Fox
"Suddenly, the bullet journal became not just an organizational system for me, but a re-entry point into my creative life again," says Abrahamsen, "and it allowed me to do both in a way that was satisfactory and helped me grow into a better person, as cheesy as that sounds. Now I'm able to call myself an artist again."
Tips for Bullet Journal Beginners
We asked Carroll, Alvarez and Abrahamsen for their bullet journaling tips for newbies. Here are their suggestions:
1. Don't Make It Profound
"A lot of time, people will sit down with their notebook and feel the pressure to write something clever or profound or important, and then that becomes a chore," says Carroll. "You can write whatever you want; it really doesn't matter. We'll figure out what matters later."
2. Just Get Started
"Write down a few tasks you want to get done today," says Alvarez. "Observe an issue you're facing and consider ways you can resolve it. Write down some ideas and get started. And if you ever feel stuck, turn to a new page and try again."
3. Buy Materials You Like
"You don't need a bunch of fancy materials in order to have a good bullet journal, but you need to have materials that you like," says Abrahamsen. "If you hate your materials, you're going to be a lot less likely to use it every day because they don't make you feel good."
4. Don't Worry If You're Not Artistic
"There are a lot of elaborate bullet journals out there and also more simple ones," says Alvarez. "Try not to get too distracted by either approach. Your notebook is a reflection of your own life, so each notebook is going to be completely different and tailored to that person's life. Each person's life is beautiful, so your bullet journal will be beautiful, too, no matter what!"
5. Start With One Topic
If organizing your whole life seems overwhelming, you can set up a bullet journal to hone in on just one area of it: to track your eating habits, financial goals, weight loss, friends' birthdays/special occasions, books to read or anything else you can think of.