To friend or not to friend; that is the question. And it's a tricky one, too -- but not nearly as tricky as managing the interactions among your various social networks on Facebook. Add coworkers to the mix, and you really have your work cut out for you (unless you're ok with your team knowing that your "sick day" was really a "hangover day").
Perhaps you've already made friends at the office and adding them to Facebook seems perfectly natural to you, or maybe you're a manager who sees Facebook as a gateway to stronger teams and an air of approachability. Maybe the mere thought of mixing work and social circles fills you with dread. Whatever your attitude, given Facebook's more than 500 million active users, each averaging 130 friends, chances are you'll bump into a coworker there eventually [source: Facebook].
Clearly, you need a plan, but first consider that Facebook's continuing design philosophy focuses on maximizing sharing and implementing privacy settings only when public outcry demands it [source: Singel]. Nothing on Facebook is truly private, including your personal information: As recently as May 2010, reports revealed that Facebook was providing user data to advertisers -- data they could use to track down consumers' names and other personal details [source: Steel and Vascellaro].
Whether you embrace Facebook's philosophy of public transparency or resist it, you cannot afford to ignore it. As for dealing with coworkers, consider following this one simple rule: Don't think about how to handle them in terms of Facebook; rather, think of how to interact with them appropriately -- and then apply that philosophy to Facebook.
Let's explore how to make this work via 10 simple guidelines.
Why make things more complicated than they need to be? Avoid friending coworkers -- period. If you're concerned that you might offend someone, explain that your refusal isn't personal, but rather a matter of professional policy. After all, respecting boundaries goes hand-in-hand with respecting coworkers.
This might strike you as more confrontation than you want to take on, but the alternative entails that you either friend the entire office or risk offending every coworker whose friend request you ignore or reject. As an additional incentive, just saying no spares you the complications that inevitably follow from non-invites to posted events, broken office romances or company departures.
Again, remember that Facebook is not private. Matters discussed online could get back to clients or even find their way into the hands of reporters. Insults and opinions might theoretically take on the legal force of defamation, or at least get you in hot water with human resources. These factors alone make mixing business and Facebook a questionable prospect.
Besides, given the growing accessibility that work has to our private lives (with cell phones and the constant connectivity of mobile devices), don't we owe it to ourselves to take back a tiny slice of life that's ours alone?
Of course, you might not have the luxury of separating work and non-work social circles. Your company might have a policy requiring -- or strongly encouraging -- intra-office Facebook activity. Alternatively, you might need to run certain teams, programs or client relations through Facebook. Possibly, you just have a thin-skinned supervisor who wants to friend you, or who thinks that a little Facebook interaction will raise their approachability quotient. In these cases, you're probably stuck friending your coworkers.
If so, there are advantages to establishing a separate Facebook account for business contacts. Such an account renders the process of monitoring your exchanges for appropriateness much easier -- you'll only be engaging in shoptalk anyway. Better still, no one can criticize you for posting on company time.
If you decide to go this route, you'll probably want to switch your personal Facebook to use a login and e-mail account unrelated to your name or company: If someone from work Googles your name, you'll want them to find your "official" site, not your fun site.
Remember second grade, when your teacher caught you with candy and asked if you had brought enough for the whole class? Or when you had to make valentines for every single one of your classmates? Well, our feelings are just as easily bruised now as they were in elementary school; if we're not invited to something (even an event that we wouldn't want to attend) we perceive it as a slight. Therefore, if you friend one coworker, be prepared to friend them all.
No good, harmless way exists for you to cherry-pick your work friends on Facebook, so either invite everybody at once or at least be ready to accept friend invites as they come in. This goes double for bosses and managers: If they want in, you really don't have much choice but to say yes.
Bear in mind as well that, while refusing to add someone as a Facebook friend creates a socially uncomfortable situation, later deleting a coworker from your friends list amounts to a veritable slap in the face. You're better off tolerating their posts or, if that's more than you can bear, adjusting your settings so that their posts no longer show up in your News Feed.
Don't friend subordinates. This may seem to fly in the face of the previous bit of advice, but it must be said nonetheless. Some companies encourage supervisors to friend their subordinates as a means of building unity, breaking down barriers and making managers seem more approachable. Bear in mind, however, that you're also invading a personal, relaxed space and polluting it with business standards of decorum and stuffiness. Chances are also good that your employees will feel spied upon.
Consider, too, the exposure you risk by potentially mixing your subordinates with your high school friends or drinking buddies. You might be one racist joke or embarrassing photo -- posted by someone you friended out of reflex -- from losing the respect of your superiors and of the people who report to you, too. When that happens, human resources and the company lawyers might not be far behind.
6
Toe the Party Line (While on the Party Line)
Facebook isn't like a phone call, or an e-mail or text to a single recipient. It's more like a party line: Everyone chats with everyone else, which means you'd better tread lightly in what you say. Don't complain about your insufferable boss, your ineffectual coworkers or your demanding client unless you're prepared for everyone to know exactly what you said.
Practice a bit of self-policing. Watch your word choices, your subject matter and the time stamps of your messages (lest someone notice how many postings you're making during work hours). You might feel like you're watering down your feelings, but discretion is an essential work skill and Facebook is the place to practice it. After all, you don't wander around your office proclaiming your every thought, feeling and exploit at the top of your lungs, do you?
Remember, too, that you don't have much control over something once you've written it; there's little to prevent someone from reposting it, and then you'll be left with the unfortunate choice of lying and denying -- or owning up and facing the music. Only post messages you'd be willing to have anyone read. This amounts to a good general rule for the internet, by the way: You should never consider anything you post online -- or send by e-mail, for that matter -- to be secret or protected.
If you friend coworkers without creating separate accounts, you might find it helpful to subdivide your friends into friend lists. Friend lists allow you to set different privacy levels for different groups, which enables you to be a bit more selective about which portions of your profile are visible to whom.
Friend lists are also useful for appearing offline to people that are constantly trying to initiate chat with you -- a huge drain on time and energy. Simply create a special friend list and then set the chat window slider to "go offline." It gets you off the hook without bruising anybody's feelings (but if they hunt you down in your cube, you're on your own).
You can also customize who sees (or does not see) your News Feed posts. Below the text box, on the right-hand side, next to the "share" button, there's a pull-down menu with a padlock icon. Using this, you can set your post to be visible to "everyone," "friends and networks," "friends of friends" or "friends only." You can also customize each post to be visible to specific people, specific networks or to yourself alone. You can even remove individual recipients. Remember: Anything you share with "everyone" can be seen by anyone on the internet -- not just anyone on Facebook.
On a related note, think carefully before changing your status to "in a relationship" with someone in the office, unless you want it known by everyone (and are ready for the potential Facebook fallout following a breakup).
Set your privacy settings to the highest level. You might think you're only posting to friends, but search engines can see loads of Facebook information unless you have your privacy settings cranked up. Google yourself regularly to see what information is publicly searchable on your Facebook pages. Assume your coworkers, supervisors and potential employers will do the same.
By default, friends, likes, groups, hometown and current city, relationship information, gender, networks, and work and educational history will show up, as will your wall postings. Moreover, some information -- including your name, profile picture, gender and networks -- will always be visible to outsiders, no matter how high you set your privacy settings. According to Facebook, others must have access to this information so that they can locate, identify and connect with you.
Facebook does not currently grant third party applications or ad networks the right to use your name or picture in ads, but nothing prevents the company from engaging in this practice in the future. If you don't want this to happen, adjust your account settings accordingly.
Sometimes a picture is worth 1,000 words too many. Watch those profile photos and photo albums. Remember, profile photos are always visible to search engines, so think twice before you swap your tasteful headshot with something amusing or potentially distasteful. Be careful of how much skin you're showing and, as always, be conscious of what message you're sending about yourself. Even conscientious Facebook users often overlook this issue.
Photo tagging is another dangerous blind spot. You never know when one of your friends will post an embarrassing or inappropriate picture with you in it, and then tag you so that the photo appears in the "View Photos Of…" list below your profile picture. Unfortunately, you cannot control who tags you in a photo, or who the owner of the photo allows to view it. You can, however, remove the tag entirely (only the photo owner and the tagged person have this ability). You might also want to set Facebook's notifications to tell you whenever someone tags you in a photo.
2
Know when to take it Offline
Delicate situations at work are best handled privately and politely: No one loses face and you minimize the potential fallout of reputation or morale. People are generally more receptive to constructive criticism and discussion when approached with quiet civility. What's more, successfully handling your own interpersonal conflicts maintains your reputation with your supervisors, who may resent you pulling them into the affair or feel obligated to escalate it further if you do. If you handle the situation online, however, you risk blowing it out of proportion or even expanding its scope office-wide.
Knowing when to take matters offline also applies to expressing your interests and opinions. Fair or not, people judge us according to the image we put forth. In the real world, a boss, coworker or client might think less of you or even silently harbor ill feelings toward you, because of your clothing, a bumper sticker on your car or even a coffee mug slogan. How much worse, then, might they react to you joining a sarcastically named group on Facebook, or stridently expressing a tactless or divisive attitude on a sensitive subject? Unfortunate decisions and foul moods are transitory, but Internet postings are forever.
Facebook postings aren't celebrated for their decorum, but that doesn't mean that you shouldn't be. Indeed, you should approach coworkers on Facebook with the same professionalism as you would in the workplace -- possibly even more, since you have less control over who views your comments online. Avoid blowing off steam about your boss or grousing about your fellow workers. Take a deep breath before you type, and don't say anything online that you wouldn't say in person. Remember, too, that tone can be difficult to convey in short printed messages. When in doubt, keep it to yourself.
Limit your Facebook meanderings during business hours. A supervisor spying your screen at an inopportune instant could ruin your whole day -- especially if you two aren't Facebook friends. Besides that, limiting Facebook time decreases the chances that you'll post when you're in a bad temper or when you're burning with the need to vent. As mentioned before, mind your timestamps and, whatever you do, don't leave a Facebook window open when you walk away from your computer.
Finally, don't chat about anything proprietary. Once again, Facebook isn't designed to be private or secure.
Bear these tips in mind, and you should stay out of harm's way -- or, at the very least, keep damage to a minimum. Happy social networking!
For more information about handling coworkers on Facebook and other related topics, follow the links on the next page.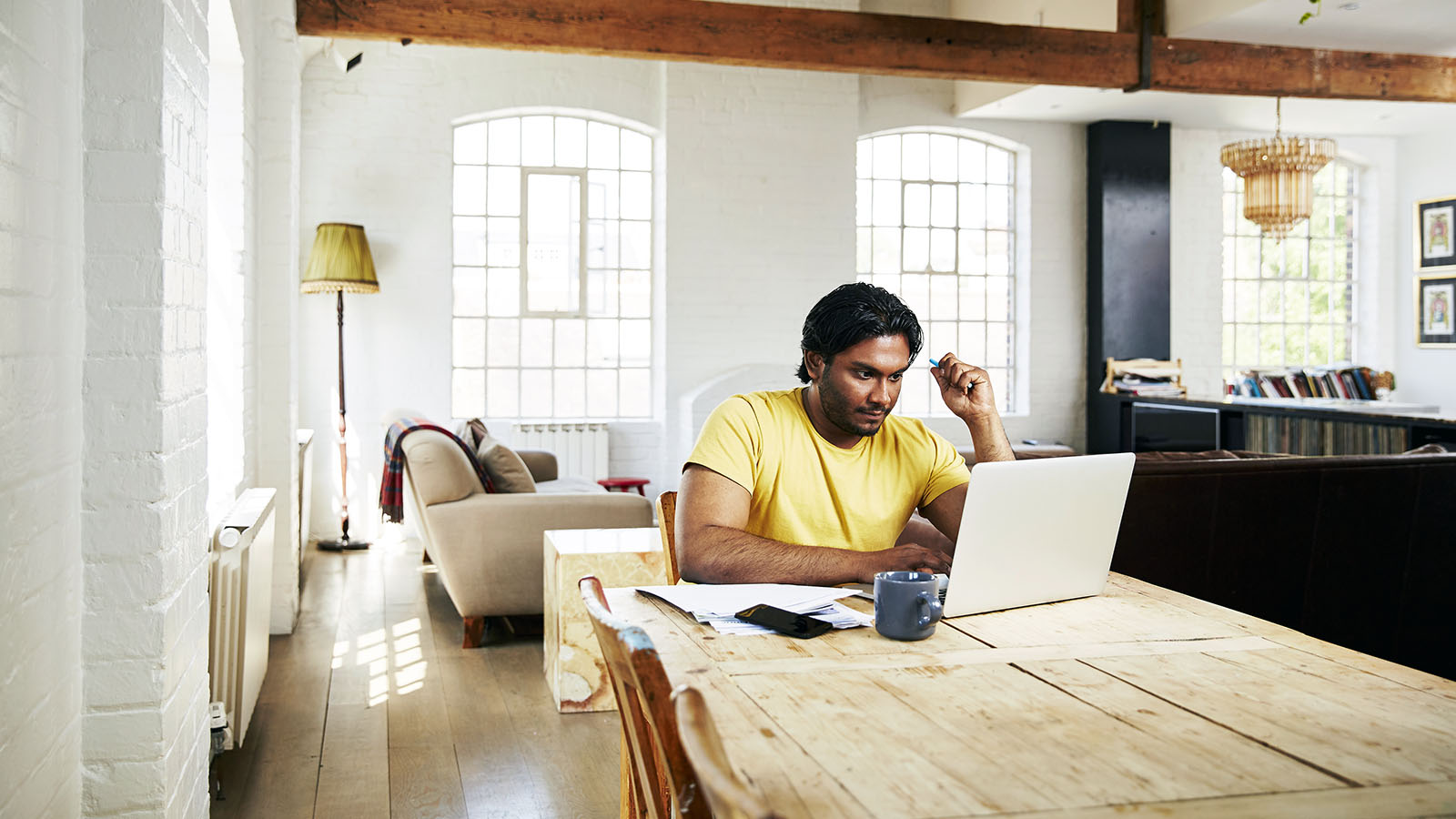 Up Next
If you're new to working from home, it might not be the dream you were expecting. But we have 10 helpful tips to make your teleworking days productive.
---
Related Articles
Sources
AllBusiness.com. "Ten Tips for Dealing with Difficult Coworkers." (Sept. 21, 2010) http://www.allbusiness.com/human-resources/workforce-management-conflict-resolution/11133-1.html

Blakely, Rhys. "Facebook shrugs off privacy fears with plan for targeted advertising." The Times (London). Sept. 11, 2007. (Sept. 20, 2010) http://technology.timesonline.co.uk/tol/news/tech_and_web/the_web/article2426470.ece

Facebook Help Center. "Friends: Friend Lists and Limited Profile." (Sept. 18, 2010) http://www.facebook.com/help/?page=768

Facebook. "Statistics." (Sept. 18, 2010) http://www.facebook.com/press/info.php?statistics

Fletcher, Dan. "Facebook Gives the Scoop on New Privacy Controls." May 21, 2010. (Sept. 19, 2010) http://newsfeed.time.com/2010/05/26/mark-zuckerberg-gives-the-details-on-new-facebook-privacy-settings/

Singel, Ryan. "Public Posting Now the Default on Facebook." Wired. Dec. 9, 2009. (Sept. 20, 2010) http://www.wired.com/epicenter/2009/12/facebook-privacy-update/

Steel, Emily and Vascellaro, Jessica E. "Facebook, MySpace Confront Privacy Loophole." The Wall Street Journal. May 21, 2010. (Sept. 19, 2010) http://online.wsj.com/article/SB10001424052748704513104575256701215465596.html